Veel van onze klanten komen bij ons met de doelstelling om gewicht te verliezen, vetpercentage te verlagen, of om weer in die broek te passen die al jaren in de kast hangt.
Een transformatie gaat niet enkel om gewichtsverlies, het gaat erom dat je de vaardigheden leert om een lang en gezond leven te kunnen leiden met een optimale fitheid. Toen Christopher door de deuren van Ultimate Performance Amsterdam liep was dit precies wat hij graag wilde bereiken. Zijn doelstelling was om fit en gezond oud te worden.
Hij wilde zoveel mogelijk leren zodat hij de expertise zou krijgen om dit te kunnen doen.
"Mijn hoofddoel is om zo lang mogelijk te leven op een gezonde en productieve manier. Mijn doel was om zo veel mogelijk kennis op te doen om dat te kunnen bereiken. Mijn doelstellingen heb ik zeker gehaald, zelfs ver boven mijn verwachtingen. Ik heb veel dingen geleerd waarvan ik niet verwacht had dat ik die zou leren."
Ook al was zijn doelstelling meer op het verkrijgen van meer kennis gericht, toch heeft Christopher toch ook een volledige lichamelijke transformatie gemaakt. Hij verloor 8cm van zijn middel omtrek en bereikte het lichaam van zijn dromen in slechts acht weken.
---
KLIK HIER OM EEN GRATIS CONSULT TE BOEKEN
---
Voordat hij bij U.P. begon vond Christopher zichzelf al aardig gezond. Hij ging regelmatig hardlopen, maakte zelf zijn eten klaar en was bewust van zijn voedingsporties. Nadat hij bij U.P. begonnen was leerde Christopher toch nog veel meer nieuwe dingen over voeding en training dan hij al wist.
---
U.P. OVERTROF CHRISTOPHER'S VERWACHTINGEN, KLIK HIER OM TE ZIEN HOE WIJ JOU KUNNEN HELPEN
---
Niet alleen was Christopher volkomen verrast over hoeveel kennis al de trainers bij U.P. beschikten maar ook bij hoe gastvrij iedereen was en al de support die hij kreeg.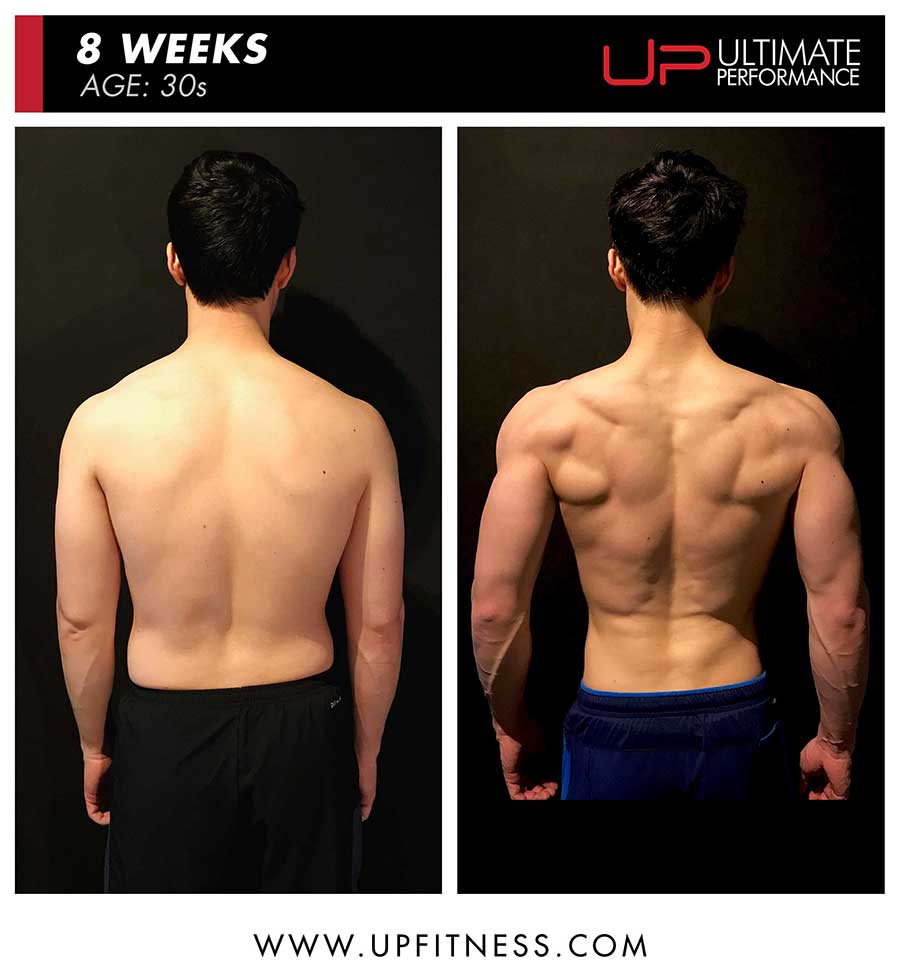 "Na een tijdje leek het er niet op dat ik 'een' personal trainer had maar dat er een heel team achter mij stond".
Door alle support van het personal training team, de verantwoording, en de gestructureerde programma's was hij instaat om zowel enorm veel kennis op te doen voor tijdens zijn transformatie als voor later.
Christopher beschikt nu over alle vaardigheden die hij nodig heeft om een lang en gezond leven te kunnen leiden. Er is maar één ding waar hij spijt van heeft en dat is dat hij niet eerder begonnen is
"Ik heb het gevoel dat dit programma hartstikke goedkoop is als ik het vergelijk met wat ik ervoor terug gekregen heb. Het is lastig om een betere investering te bedenken. Persoonlijk had ik dit heel graag 3-5 jaar eerder gedaan toen ik net begonnen was om mijn gezondheid serieus te nemen. Die paar jaar extra zouden het meer dan waard geweest zijn."
Christophers transformatie gaat veel verder dan zijn nieuwe lichaam, hij heeft enorm veel kennis opgebouwd wat hem de rest van zijn leven zal helpen bij het bereiken van zijn hoofdoelstelling om zo lang mogelijk te kunnen leven op een gezonde en fitte manier. Ook heeft hij een geweldig lichaam gecreëerd tijdens dit proces, en dat allemaal in slechts 8 weken.
---
Ben je geïnspireerd geraakt en ben je klaar om aan jouw eigen transformatie te beginnen? Vul dan het onderstaande formulier in
We show you the best, we don't show you the worst.
We show you people who follow the plans, not those who are all talk.
We show you those who inspire even us with their commitment to their results.
You cannot get results exactly like these. You are unique and that means you can only get your own best possible results.
Your results are a function of time spent following the plan; your genetic response to the right exercise and diet program; how hard you train; how consistently you come to the gym; how disciplined you are with your diet; & your starting point.
Oftentimes the lower your starting point (poor fitness, terrible body composition) the better your results.
We cannot do the work for you and the results you see here are a testament to the work ethic of our clients.
Our reputation is that we are the best trainers in the world for helping you to unlock your potential, & we can lead you to the door, give you the key, even turn the handle and push the door open, but we cannot walk through it for you.
In the end the result is down to you.
Like these results? Send us your details in the form below to receive information about our programs