Alex was ready to begin the next chapter of her life – starting a family.
But 33-year-old magazine director Alex wanted her health to be perfect before she took this big next step.
During the pandemic, she had been eating and drinking more, like many people – and she says her health has suffered because of it.
She noticed when trying on her 'going out' clothes that they didn't fit. A classic yo-yo dieter and self-confessed 'cardio bunny', Alex was looking for a training program that was structured and holistic to feel back to her best.
That's exactly what she got working with Ultimate Performance. She learned how to train purposefully with weights and how to eat for her goals – and in a matter of weeks, she has transformed her body and overhauled her health.
Now her doctor says she's in peak shape to start the next exciting next stage of her life.
"U.P. was such an eye-opener in terms that you don't actually have to do that much cardio to see amazing results. Who knew lifting weights was this fun!
"Lifting weights has done incredible things for my physique. I've seen huge changes within such a short time.
"Twelve weeks is really not that long. It's nice knowing I don't have to exert myself in terms of cardio to see results."
Here Alex talks about her transformation and how she achieved it with support, accountability and expertise from her trainer.
What was your lifestyle like before Ultimate Performance?
It was always one extreme or the other. I'd be incredibly restrictive with my diet, or I'd do a massive blow-out with takeaway, alcohol and sweets. I could never find the balance; it was always one or the other.
Before U.P., my habits and lifestyle choices were very short-term, as in the joys and the highs were very short-term. Later, I'd feel terrible about what I did or didn't do. When I was very restrictive, my diet felt okay, but I knew I couldn't maintain it, and I felt very sluggish, or I would binge and, again, not feel great.
What was your motivation to join Ultimate Performance?
It was during lockdown where I really let myself go. It was coming out of lockdown when I wanted to go see friends and try on clothes, and they didn't fit.
I'm at a stage in my life where we want to start a family. Before we do that, I want to get into really good shape. That was the biggest trigger.
It was now or never. I now feel ready. I've gotten myself to a place I feel happy and enter the next stage of my life now, having completed and accomplished this goal.
Since completing my transformation, we've gone back to the doctors. The checks have all come back, and I am in optimal health to start this next chapter in my life.
What was your training like before Ultimate Performance?
The training I've done in the past was a lot of classes, usually very high in cardio. 'Cardio-bunny' comes to mind. I did a little bit of strength training, but I didn't know what I was doing, and I didn't feel confident with using some of the machines or knowing my form was correct, so I would avoid that type of exercise. That is the biggest difference between what I was doing before and what I am doing now with U.P.
What would you say to women who don't like to lift weights?
I would say, don't be afraid. Everyone has to start somewhere. I know there are a lot of misconceptions and misinformation out there that lifting weights will make you bulky, but that is untrue. The last 12 weeks have just proven that. I was able to lift quite a lot which I'm quite happy about. I'm most proud of my deadlifts. Being able to lift not just one 90kg bar but being able to lift that multiple times.
The greatest feeling was going into a gym and lifting that weight next to a guy who was lifting less than that.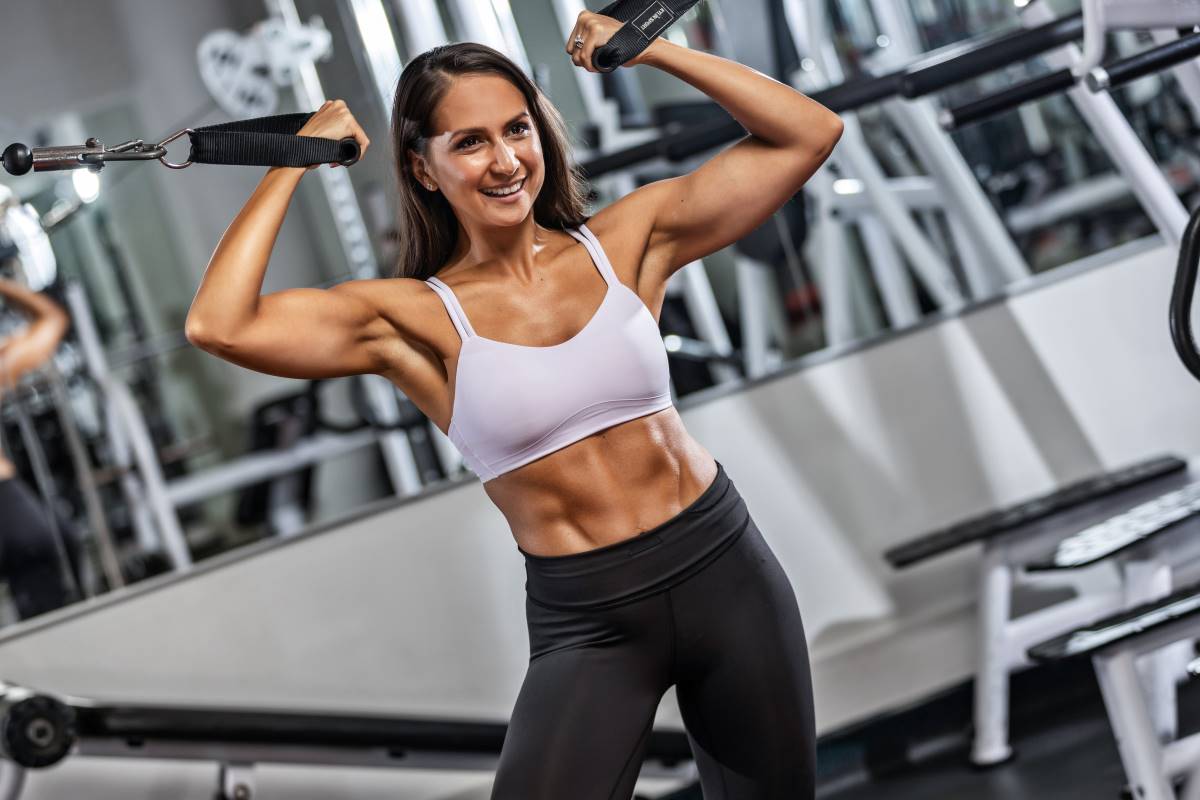 What is your next goal?
Going forward, I want to continue with weightlifting. In the past, my downfall has always been that I'm easily persuaded in terms of, if I don't feel like it, I won't go. That then has a roll-on effect.
In terms of my goals moving forward, it is to continue going to the gym and lifting weights, and I'd love to continue lifting a little bit more. I've always wanted to do pull-ups, so now, after I've completed my U.P. experience, I want to try.
What was it like doing a photoshoot at the end of your transformation?
It was such a high to do the photoshoot. When I first started at U.P., I didn't even think I would make it to that stage. It felt incredible, and now we have the photos; it's still so weird to see that it's me! I'm so glad I did it. There was one moment when I spoke to my trainer, and I said, "I don't think I can do it". Although I am so glad, I did. It was a nice way to end the 12 weeks.
What did your husband think of your transformation?
He was so sweet. He was saying how proud he is because he's done the program before and knows how challenging the program can be, especially when you're juggling a full-time job, and we are also still in a pandemic. I've never done this type of training before, so the fact that I stuck with it and came out with incredible results, he said he was really proud. He also said I'm a lot happier.
Having a support network is absolutely key. I was lucky enough that my husband is on a similar path. Our meals together were the same, rather than if he was eating something that, in the past, I would have just inhaled. We live together, so in the fridge, all the foods were whole foods.
Even my friends were fantastic. They encouraged me when I didn't feel like doing it anymore. It was just great because they understood. Some of them joined me on this journey, in a way. We did lots of walking together, rather than going to the pub. Rather than going for fried food, which is common in a lot of Asian cuisines that I love, our meal choices were going for a salad instead.
In terms of exploring London, that was such a great thing to do also. Rather than doing the same thing over and over again, we were looking at other ways of entertaining ourselves, and it turns out there's quite a lot.
What has been the biggest change in you since completing your transformation at Ultimate Performance?
From day one, when I walked into U.P., I think I was quite dejected, I was a little terrified, and I was quite negative in terms of everything I was approaching. Since that, it's been three months, and with every challenge that comes at me now, I can say I've done it.
It's almost like, everything I've learnt at U.P., I can take those lessons and apply that to my other life problems, which is just breaking it down, finding a support network, seeing what I can do, and the stuff I need more time or help with.
What is the magic ingredient to a successful transformation at Ultimate Performance?
The magic ingredient is consistency. You are not going to see change if you're doing it only piecemeal. That's the number one thing; just stick with it. There may be days where you will fall, but don't let that stop you. Get back on it and keep going with it. Trust the process.
LIKE ALEX, MAKE YOUR HEALTH AND LIFELONG WELLBEING A PRIORITY WITH ULTIMATE PERFORMANCE. FILL OUT THE ENQUIRY FORM BELOW…
We show you the best, we don't show you the worst.
We show you people who follow the plans, not those who are all talk.
We show you those who inspire even us with their commitment to their results.
You cannot get results exactly like these. You are unique and that means you can only get your own best possible results.
Your results are a function of time spent following the plan; your genetic response to the right exercise and diet program; how hard you train; how consistently you come to the gym; how disciplined you are with your diet; & your starting point.
Oftentimes the lower your starting point (poor fitness, terrible body composition) the better your results.
We cannot do the work for you and the results you see here are a testament to the work ethic of our clients.
Our reputation is that we are the best trainers in the world for helping you to unlock your potential, & we can lead you to the door, give you the key, even turn the handle and push the door open, but we cannot walk through it for you.
In the end the result is down to you.
Like these results? Send us your details in the form below to receive information about our programs