It was definitely the most life-transforming process I've ever been through. It was amazing. So, thank you for making the experience awesome!
Avonda was worried sick about how she'd look at an upcoming wedding this year.
She said she'd 'thrown her health to one side' post-pandemic, and didn't recognize her body anymore.
A reckless diet, no exercise, and drinking too much had led her to this point, but reversing those nasty habits was proving harder than she ever imagined.
Avonda had even tried using personal trainers in the past – but it was the same story every time…
Spend 50 minutes in the gym with her trainer, then be left to her own devices.
Once she'd made the decision to partner with Ultimate Performance, her entire perception of personal training changed forever.
Avonda and her trainer worked together around the clock, dialling in on her technique in the gym, diet choices, sleep quality, and step count.
The end result? A phenomenal 13kg weight loss.
She's stunned by her rapid progress, and thrilled beyond belief that she was able to drop four dress sizes in just 17 weeks.
Here, she discusses the training and diet adjustments she made to shape her slim waistline…
So, before you started training with Ultimate Performance, you mentioned you had a few bad habits. Could you tell us about those?
Yeah, so my habits weren't great. I think when the pandemic started, everyone kind of threw all their good habits out of the window, me included.
Ever since then, I never really had a routine. I stopped going to the gym, didn't really do home workouts, was eating out a lot more, drinking a lot more, and just kind of threw my health to the side.
I got to a point where I started to not feel like myself anymore. When I looked in the mirror, I didn't recognize my body.
What brought me to Ultimate Performance, was that I had a wedding coming up. I wanted to change the way I look, and do that, I knew I needed to change my lifestyle.
How did you find your first session in the gym? Did you enjoy it?
The first session was definitely a little tough! That was just because I hadn't exerted my body that strenuously in quite some time.
It honestly took me back to when I was playing soccer in high school, and I hadn't worked out all summer and then had to come back for preseason. My trainer was very supportive through the whole session.
By the second session, I had properly prepared and was able to push through a bit more. So, I guess you could say it was baby steps during that first week.
But by the end of the first week, I could already tell that I was building endurance.
How quickly did you see results, Avonda?
In the first two weeks, I really bought into the program because I lost around 7lbs. Previously, when I had tried to lose weight on my own, I was happy if I lost 1lb a month.
So, to see that drastic difference in such a short amount of time really made me buy into it and realize that this was the real deal.
I was looking back at the data and thinking, "Wow, I dropped so much weight so soon."
So, what advice do you have for people starting their training program?
The advice I have for people who are just starting the program is to come with an open mind, mostly because it's not just about hitting your weight goals; it's really more about changing your lifestyle, changing your habits, and all of those things working together to help you reach your goals.
When I first came in, I thought it would be a traditional service where you come into the gym, do your exercises, and go home, but U.P. is a way more holistic and well-rounded experience.
You have your trainer checking in on you every day, making sure that you feel good with the number of calories, the number of steps, how much water you're drinking, sleep, and everything.
They're really life coaches as well as personal trainers.
Just come in knowing that your entire life is going to change. That's my advice!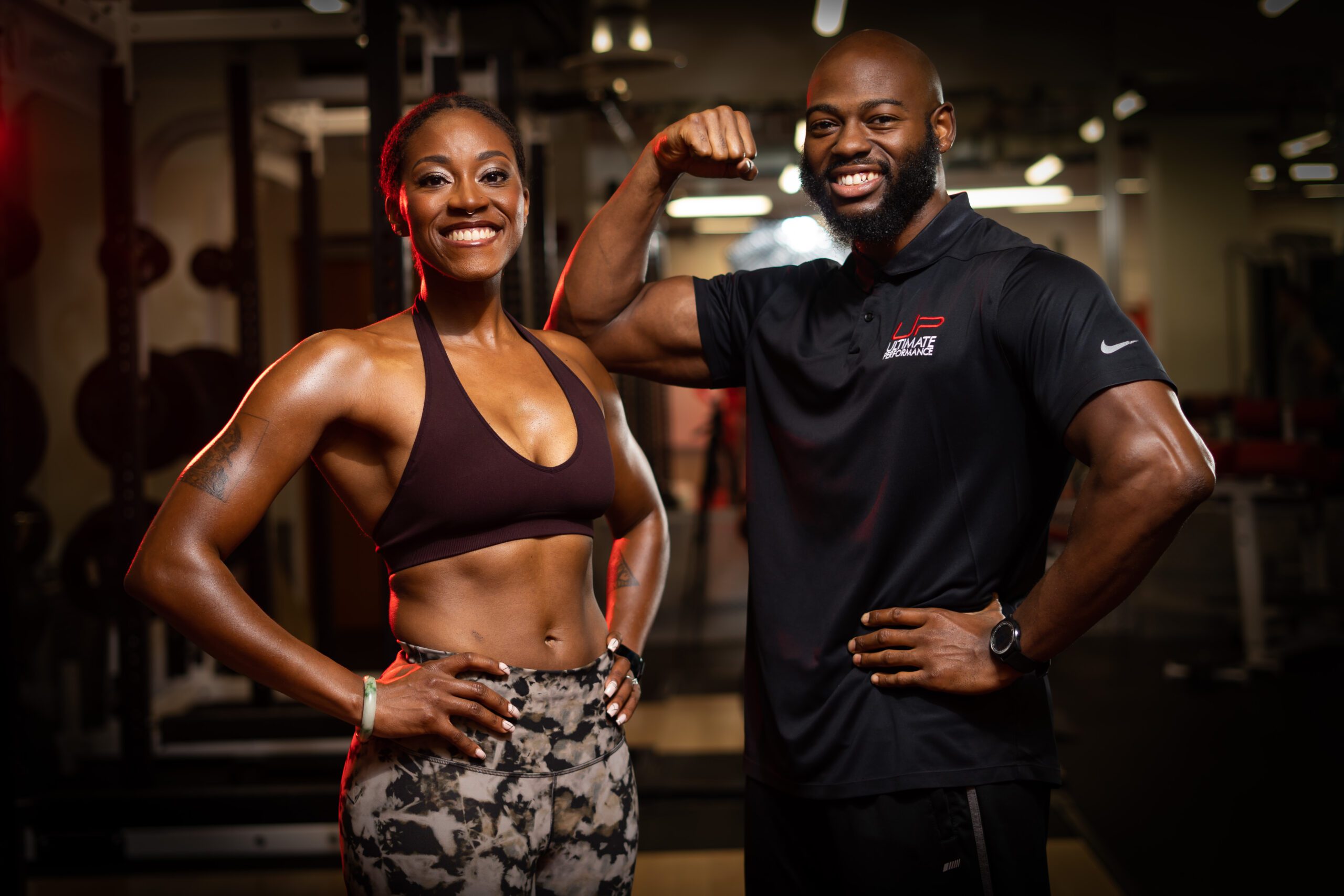 You look completely different now, compared to where you started. Talk us through the changes to your body that you're most pleased with.
The places on my body where I noticed the most drastic changes were definitely my waist and my hips.
I lost over five inches from my waist and over six inches from my hips, which was a significant difference, especially in terms of sizes.
I came into U.P. around a size 12 dress, and now I'm down to a size four. I came in wanting to fit my old clothes, but now some of my old clothes are a little big.
So, it definitely exceeded my expectations.
How would you compare U.P. to other personal trainers you've worked with in the past?
My previous training experience consisted of going to a gym, spending about 50 minutes with a trainer, and then leaving the gym without much thought about training until the next session. It was very focused and localized to the gym, not really integrated into my lifestyle.
In contrast, training with Ultimate Performance – I found myself thinking about training all the time because I knew that it wasn't just what I did in the gym, but also what I did outside of the gym. That made the experience valuable.
So, for these 17 weeks, it felt like I was training around the clock, staying consistent with my steps, inputting my food into the U.P. app, monitoring my sleep, tracking water, and checking in with my trainer. I felt supported 24/7 during the training period.
Even as I transitioned to working out on my own, I still had that guidance. It felt like my trainer was with me in the gym, as they would leave notes in the app about how many sets to do, the intensity, and the number of reps for everything.
So, although I was starting to train by myself, I still felt the support and guidance.
And how did you find your photoshoot?
Going into the photo shoot, I was a little nervous because I wasn't sure how the day would go, or if I would perform the exercises correctly. But it turned out to be a fun and enjoyable experience, especially to see all my hard work pay off and to view the pictures during the shoot.
I didn't recognise myself in some of them, which was quite a surprise. It was a great way for me to see all the muscle I had gained and all the progress I had made.
Witnessing all my hard work culminate in that moment made me feel proud, excited, and proud of myself. Now I know what my 'optimal' body looks like, and I can always reference these photos if I ever feel lost or deviate from my path.
They remind me that I've been there and can get there again.
Great! Anything you want to add?
I thoroughly enjoyed the experience.
I didn't really know what to expect coming into it, but I can confidently say that I'm pleasantly surprised.
It was definitely the most life-transforming process I've ever been through.
It was amazing. So, thank you for making the experience awesome! Thank you.
---
We show you the best, we don't show you the worst.
We show you people who follow the plans, not those who are all talk.
We show you those who inspire even us with their commitment to their results.
You cannot get results exactly like these. You are unique and that means you can only get your own best possible results.
Your results are a function of time spent following the plan; your genetic response to the right exercise and diet program; how hard you train; how consistently you come to the gym; how disciplined you are with your diet; & your starting point.
Oftentimes the lower your starting point (poor fitness, terrible body composition) the better your results.
We cannot do the work for you and the results you see here are a testament to the work ethic of our clients.
Our reputation is that we are the best trainers in the world for helping you to unlock your potential, & we can lead you to the door, give you the key, even turn the handle and push the door open, but we cannot walk through it for you.
In the end the result is down to you.
Like these results? Send us your details in the form below to receive information about our programs