Bank manager Daniel had been dangerously overweight for more than 20 years.
But no matter what he tried, just couldn't unravel the two decades of harm that obesity had wrought on his health without professional help.
Feeling like he had a mountain to climb, father-of-two Daniel recruited the best in the business – Ultimate Performance – to help make the real and lasting changes he craved.
Starting out with the modest aim of losing 20kg (44lbs), his commitment allied with the expertise at U.P. utterly eclipsed even his most ambitious goals.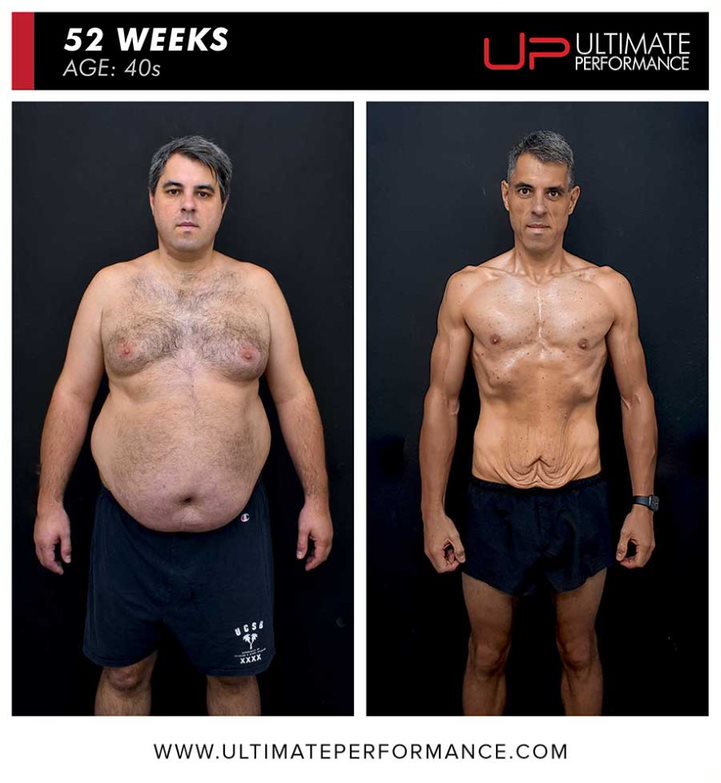 "I aimed to lose 20kg (44lbs) when I joined U.P., losing 53.3kg (117lbs) is beyond incredible for me.  
 
"I can be the perfect role model for my kids, play with them, and confidently help them understand the importance of staying healthy, which earlier I sadly couldn't."
"No doubt, U.P. is the best place to achieve the results after you've run out of your excuses to begin."   
As a regional manager at a bank, Daniel's job is quite energy-consuming, fast-paced, and involved a lot of travelling over the years.
For the last 20 years, Daniel knew he was overweight, but only when he found U.P. online did he finally leave his excuses behind and got started with his transformation journey.
"I had tried all kinds of diet and all kinds of sports to reduce my weight, but nothing worked.  
 
"So, I googled 'best gyms online' and found U.P. I wanted to workout with the best and at the best place since I knew it would be a long journey on a long road, and I needed results. Seeing the before and after pictures of people on U.P.'s website, I was assured that this was it."   
'No pain, no gain' has been something that Daniel has actually experienced during every bit of his fitness journey at U.P.
Nevertheless, he was still able to achieve much more than he aimed for, and even the pandemic couldn't stop him.
"When I started training at U.P., it was really, really painful. After the first workouts, I was almost crawling out of the gym after each session. It was quite tough, and I had a lot of cravings.  
 
"On the contrary, the lockdown in Singapore was a circuit breaker and not that challenging at all because I got excellent online coaching by my personal trainer. 
  
"However, the biggest challenge was to have everything controlled and managed under one roof.  
 
"The children, my partner, my job, the diet and, of course, the workouts – managing it all at the same time, following discipline was something that didn't happen overnight. I am very happy and thankful that besides my personal trainer, my partner supported me so much; without her, all this would not have been possible."   
Just like success, fitness has no bar. At 41, Daniel has overcome his 20 years of mental block and achieved the physique he could only dream of.
Both his physical and mental transformation at U.P. has been quite remarkable.
"I started at U.P. intending to lose 20kg (44lbs), but at the end, I lost 53.3kg (117lbs). It felt incredible.
"My whole body has changed now. I can now do 50 push-ups in a row, and I can do 10 pull-ups in a row, which is a big achievement for me.
"When I started, I couldn't even do one of each properly. I can also easily play football with my kids now for half an hour or longer, which I absolutely couldn't do earlier.
"Now, I have completely become used to the diet. I can pace myself very nicely and adhere to balanced and healthy nutrition without giving in to cravings of any kind."
Besides the radical changes in Daniel's body, the training program at U.P. also positively impacted Daniel's lifestyle and the other aspects of his life outside the gym.
"I am so happy seeing this massive change. People look differently at me now; they see my drive and determination. Even on social media, I get so many likes on my pictures, with so many people telling me that I did a great job. It feels amazing."   
  
"Given my health situation earlier, I could never become a role model for my kids, but now I have. I can confidently tell them about the importance of staying healthy and fit. I can now go and lay by the poolside, which I never did earlier because I was ashamed of my body, but now I love showing it off, and I often notice people looking at me."   
Daniel's experience at U.P. surpassed all expectations – when it comes to achieving 'impossible' results, nowhere else compares.
"I would 100% recommend U.P. to people who are looking for a change in their lives because it is indeed the best place.  
 
"The way I was guided through this whole journey and so professionally is remarkable.  
 
"I extend endless gratitude to my personal trainer, Lawrence, who really pushed me through this program and gave me the right guidance at every moment."  
MAKE YOUR HEALTH AND LIFELONG WELLBEING A PRIORITY WITH ULTIMATE PERFORMANCE. FILL OUT THE ENQUIRY FORM BELOW…
We show you the best, we don't show you the worst.
We show you people who follow the plans, not those who are all talk.
We show you those who inspire even us with their commitment to their results.
You cannot get results exactly like these. You are unique and that means you can only get your own best possible results.
Your results are a function of time spent following the plan; your genetic response to the right exercise and diet program; how hard you train; how consistently you come to the gym; how disciplined you are with your diet; & your starting point.
Oftentimes the lower your starting point (poor fitness, terrible body composition) the better your results.
We cannot do the work for you and the results you see here are a testament to the work ethic of our clients.
Our reputation is that we are the best trainers in the world for helping you to unlock your potential, & we can lead you to the door, give you the key, even turn the handle and push the door open, but we cannot walk through it for you.
In the end the result is down to you.
Like these results? Send us your details in the form below to receive information about our programs