Ryan had never used a personal trainer before as he thought he was familiar enough with gym equipment. 12 Weeks at UP changed his mind!
Read about Ryan's experience below;
Did you have any doubts or reservations about personal training before you started with us?
"Yes, I had doubts about personal training.  In fact, I had never used a personal trainer before, because I had watched personal trainers in other gyms advising clients.
I felt I was familiar enough with gym equipment that I didn't need additional advice from a personal trainer.
Furthermore, the advice that clients were given seemed to be very rudimentary, and appeared to be stuff that I already knew.
The next question, naturally, is why would I then sign up for a personal trainer through UP"
My wife had gone to UP for a few months and she had some impressive fat loss and strength gain after the birth of our second son
"I saw UP as something different from the in-gym personal training that I was accustomed to seeing and I thought it was worth trying for 15 sessions.  After those sessions, I was pleased enough with how things were going that I decided to go ahead with a full 12-week transformation."
We know that our gyms can be quite intense environments. Did you feel comfortable in the UP environment?
"I have to admit, I felt a little bit intimidated when I first set foot inside of UP.
The trainers all looked very fit, and everything that was going on inside the gym was quite serious.
After a week of being there, however, the intimidated feeling went away, and I looked forward to coming in each time."
I looked forward to seeing all the familiar faces each time I came in, and even other clients who tended to train at the same time as I did.
Did you feel supported by your trainer and the overall team?
Supported by trainer: Yes, absolutely. I never imagined a personal trainer could be as involved and committed to my success as Dhaval.
"He was always available to answer any questions I had about our training or the nutrition, and my questions were many.
UP's philosophy is multifaceted, and all of the pieces of the puzzle really need to come together for a client to be successful, and Dhaval knew that.
I can see the challenge of getting a client on board with each area of the philosophy, and I was no different. Cutting carbs in the first few weeks, understanding the benefits of fish oil and BCAAs in regards to my transformation, even ensuring that each set was executed with superb form.
Dhaval guided me through all of these by giving me information and data to help minimize my doubts and gain trust in his professional expertise. In the last few weeks, we put together a united front to conquer those last few hurdles and achieve superb results."
How would you describe the actual training experience, from the gym training to the nutritional coaching?
"The training experience was a bit overwhelming at first, but I'm pleased to say that UP knows how to break the pieces down into as 'bite-sized' as possible for a client to handle.
The in-gym sessions were new and interesting as I learned how to get the most out of an hour in the gym.
For example, it just never occurred to me to superset two completely unrelated body parts, and UP uses that to not only maximize your in-gym efficiency, but also to give you the best cardio workout possible.
Ending with HIIT was like the icing on the cake that put you in the state that you and others would enter the locker room and say something to the affect of, 'Assault Bike again, eh?'  The other client would tend to just nod at you through all of his sweat and panting.
The nutritional coaching was eye-opening to say the least."
I can't stress enough how important the nutrition was to my success, and my trainer's attention to detail in this arena helped maximize my results.
"Careful manipulation of all of my macronutrients, sometimes on a daily basis, drove the results, and I'm not only the leanest I've ever been in my life, but also the strongest I've ever been.
I spent many hours in the gym in my early 20's, and I never saw the results like I saw in UP.
I was surprised to discover that my biggest pitfall was probably not understanding the key role nutrition plays and what steps I should have been taking to ensure my nutrition was on point."
What have your results been like since you started with us?
"What have my results been like? Look at the photographs! 😉
Seriously, though, I'm stronger and leaner than I've ever been, and I feel fantastic."
Even my immune system seems stronger since I've been at UP.  I sleep better, I have more energy throughout the day, and my mind is sharper.
CLICK HERE TO BOOK A COMMITMENT-FREE CONSULTATION
Do you feel different about yourself in any way since you started personal training with us?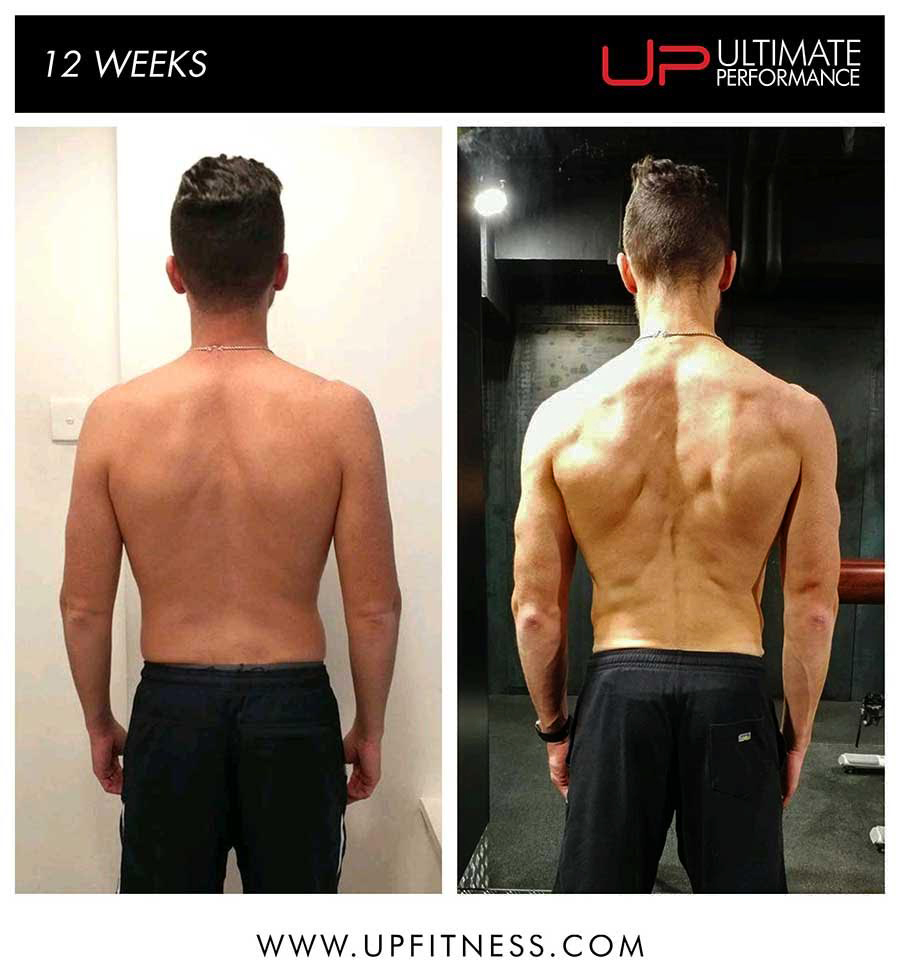 "I'm more self-confident now than I was before I started at UP, and I don't believe it is related to how my appearance has changed.  I genuinely feel holistically better about myself than before I started, and I think that's just how my body reacts to being physically challenged."
What would you say to your friends if they asked you about us?
"Many friends have asked me about my transformation, in fact.
Of course, I'm pleased with my transformation, and I express that to them.
If they start asking about the next step like, "How can I do what you did?" then the response has to be modified a bit."
I tell them that UP is not a cakewalk and it's not for people who take the path of least resistance.
"If you are a regular client of Madame Wu's electroshock fat loss therapy, I'm afraid UP is probably not the solution you're looking for.
I make sure to let these people know that if you want exceptional results, then you're going to need to put in an exceptional amount of effort.
There's no shortcut here, and you're going to really need to commit to doing some hard work be disciplined if you want to achieve the same kind of results that I did."
We show you the best, we don't show you the worst.
We show you people who follow the plans, not those who are all talk.
We show you those who inspire even us with their commitment to their results.
You cannot get results exactly like these. You are unique and that means you can only get your own best possible results.
Your results are a function of time spent following the plan; your genetic response to the right exercise and diet program; how hard you train; how consistently you come to the gym; how disciplined you are with your diet; & your starting point.
Oftentimes the lower your starting point (poor fitness, terrible body composition) the better your results.
We cannot do the work for you and the results you see here are a testament to the work ethic of our clients.
Our reputation is that we are the best trainers in the world for helping you to unlock your potential, & we can lead you to the door, give you the key, even turn the handle and push the door open, but we cannot walk through it for you.
In the end the result is down to you.
Like these results? Send us your details in the form below to receive information about our programs