Mother-of-three Jen says she has got her body back after just 15 weeks training with Ultimate Performance.
As a former competitive swimmer who competed at a national level, she was always fit, active and healthy.
But having three children and balancing parenthood with a demanding career meant her fitness suffered.
However, Jen found out what it's possible to achieve in 15 short weeks at UP, and she has been blown away by her results.
"My results surpassed my expectations, she says. "After having three children in a little over four years and working full-time in an intense environment, I honestly didn't think it was possible to get my body back.
"I had always been fit and active and was not happy with the way I looked and more importantly the way I felt.
Now I am stronger, leaner and more energetic than I have been in years. In the end, not only did my body transform but my view of what healthy looks and feels like has fundamentally changed.
"On top of that, my trainer Aneesh says I look younger…I won't question that!"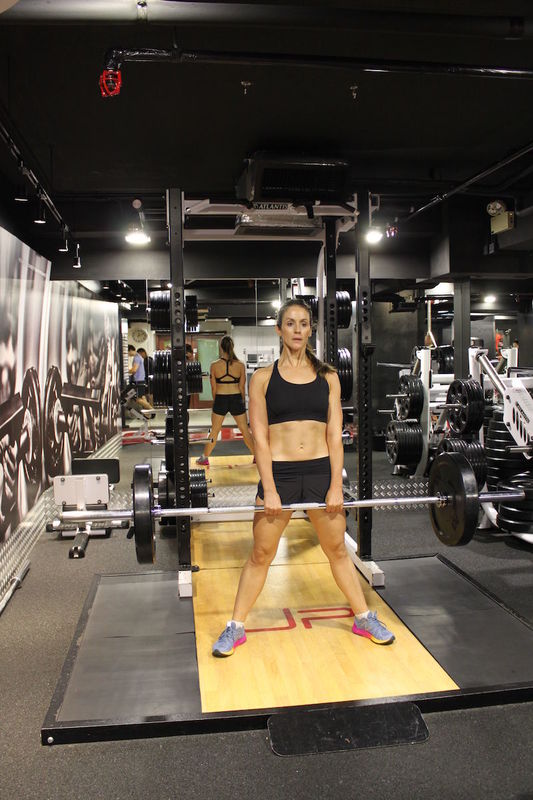 Jen's pedigree as a competitive swimmer meant she knew how to train hard and push herself – but experiences with other personal trainers hadn't challenged her enough to get the results she wanted.
"I come from an athletic background, having trained and competed at a national level in swimming for over 10 years.
"A few years after I stopped swimming, I signed up for personal training sessions at another gym and felt like the workouts were ones that I could have easily done on my own; I wasn't being pushed and I wasn't learning anything new.
"The trainer was only there for me for the one-hour session and diet was not part of the conversation. It was seriously a waste of time and money."
But from the moment Jen started working with her personal trainer at UP she knew it was a game-changer.
Her diet plan was tailored to her exact nutritional needs and geared up to get her in the best shape of her life.
Her trainer created a bespoke training programme that challenged her every single session of the 15 weeks and showed her what she was truly capable of.
UP's holistic approach to body transformation meant everything from sleep to supplements was considered to help Jen reach her goals and build her stunning new figure.
"From day one I knew UP was different; during training sessions my trainer pushed me beyond what I thought I could do, and outside of training sessions my trainer regularly checked in with me to see how I was getting on with my diet. His continuous support was critical to my success.
The actual training experience at UP has been like a crash course in fitness and nutrition. I have learned so much and now fully understand the key role that nutrition plays.
It can feel like a big step coming into a new gym and an intense training environment like UP, which is geared up for delivering exceptional results for every single client.
But once Jen had got over her apprehension she found it an incredibly motivating place to train.
"The gym was a bit intimidating at first (there are some big guys lifting big weights!). But this quickly changed when I met my trainer Aneesh.
"He was always positive and supportive and never made me feel inadequate if I didn't know how to do something. Every question was a good question.
Additionally, the overall team at UP has been very friendly and the other clients are always encouraging.
Jen's results after just 15 weeks are stunning. She achieved her goal of getting her body back after having children – but she says she has gained so much more too.
She says her UP experience has helped start a new chapter in her life.
"My life has changed dramatically since working with my trainer. I am a much happier person and more confident in myself.
"I'm more focused and feel like I can achieve anything I put my mind to. I am really proud of myself and the example I am setting for my children.
This really does feel like a new chapter in my life and I am excited to set new goals and push myself to achieve them – with Aneesh's help of course!
She adds: "I would recommend UP to anyone who is serious about making a life change. UP and your trainer will commit 100% to making sure you succeed, so listen to them and commit back 100%. All the hard work is worth it!"
If you're inspired by Jen's story and you're ready to get your body back with your own incredible transformation results, contact us to find out more about our Personal Training Plans.
We show you the best, we don't show you the worst.
We show you people who follow the plans, not those who are all talk.
We show you those who inspire even us with their commitment to their results.
You cannot get results exactly like these. You are unique and that means you can only get your own best possible results.
Your results are a function of time spent following the plan; your genetic response to the right exercise and diet program; how hard you train; how consistently you come to the gym; how disciplined you are with your diet; & your starting point.
Oftentimes the lower your starting point (poor fitness, terrible body composition) the better your results.
We cannot do the work for you and the results you see here are a testament to the work ethic of our clients.
Our reputation is that we are the best trainers in the world for helping you to unlock your potential, & we can lead you to the door, give you the key, even turn the handle and push the door open, but we cannot walk through it for you.
In the end the result is down to you.
Like these results? Send us your details in the form below to receive information about our programs