Fitness fanaat Alberto is weer helemaal terug in shape op zijn 50e en dat na jarenlange schouderblessure!
Door een ongeluk tijdens het rotsklimmen heeft Alberto jaren lang last gehad van zijn schouder.
Zonder hulp in te schakelen van een specialist werd zijn blessure met de jaren erger en erger totdat hij zijn arm niet meer kon bewegen.
Na twee jaar niet trainen en flinke pijn te hebben geleden had Alberto er genoeg van. Het werd tijd om weer in shape te komen en zijn blessure aan te pakken.
Ultimate Performance leek daar de meest geschikte plek voor om zijn fitness weer op te pakken.
Hij was verbijsterd over de resultaat die hij had gehaald in slechts enkele weken tijd. Zijn lichaamsvet was flink gedaald, hij werd sterker, mobieler en hij voelde zich weer als zijn oude zelf.
"Mijn vetpercentage is gedaald en ik heb meer spiermassa."
"Mijn fitness level is ontzettend vooruit gegaan. Mijn mobiliteit is nu voor 90% terug naar hoe het was."
Het was een moeilijke periode voor Alberto. Om niet te kunnen trainen zoals hij gewend was, was bijna net zo pijnlijk als zijn schouderblessure.
"Ik heb mijn hele leven gesport. Maar door mijn blessure, kon ik amper mijn arm bewegen."
"Ik ben naar een fysiotherapeut gegaan, maar de behandeling heeft verre van geholpen. Ik moest twee jaar stoppen met trainen."
"Ik realiseerde me dat de manier waarop ik mijzelf trainde ook niet de meeste efficiënte manier was. Ik zag geen resultaat."
"Dus mijn voornaamste motivatie om naar U.P. te gaan was om in een korte tijd resultaat te zien en fit te worden. Daarnaast wilde ik ook leren hoe ik op de juiste manier moet trainen en eten."
Door Albertos traingeschiedenis was het oppakken van het U.P. training regime gemakkelijk, zijn grootste uitdaging was echter zijn schouderblessure.
"Ik heb altijd al een redelijk gezonde levensstijl gehad. Ik deed aan lange afstand zwemmen en trainde een aantal keer per week."
"Ik wist echter ook wel dat mijn fitness level een stuk beter kon worden met het advies van experts op dit gebied."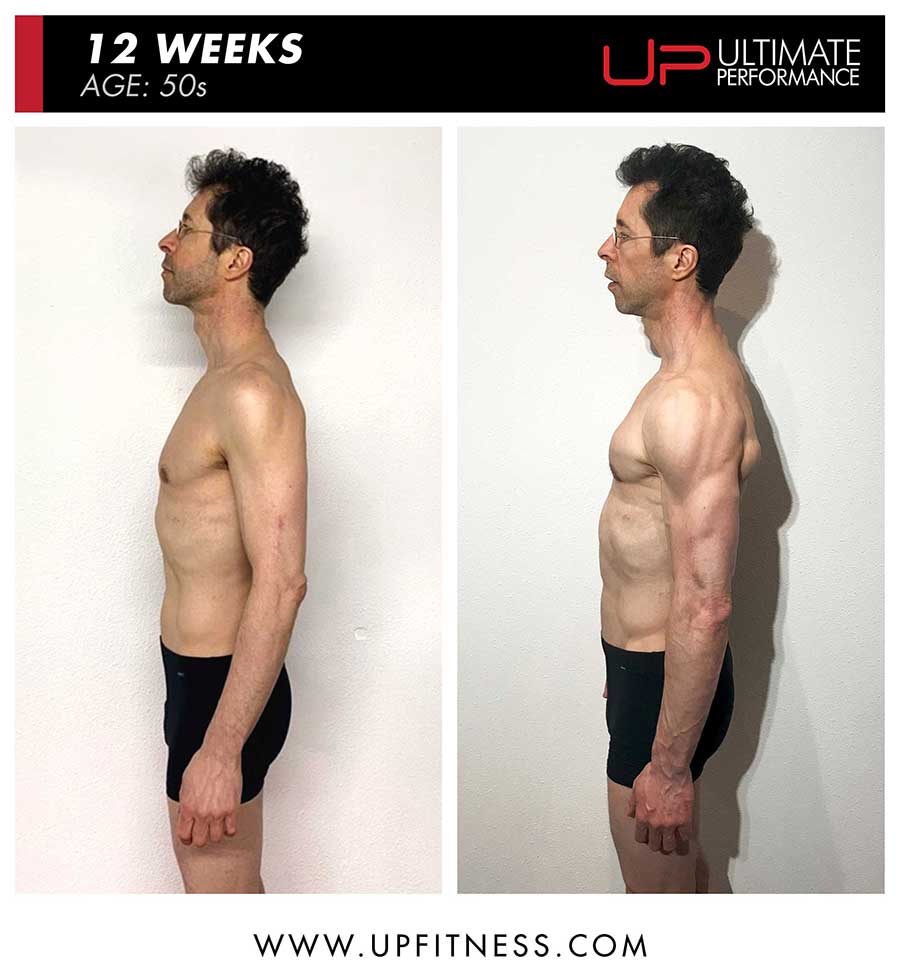 Als je zo lang geblesseerd bent dan daalt je zelfvertrouwen flink naar beneden tot het punt dat je bang wordt om jezelf uit te dagen in de gym.
Maar, volgens Alberto, zijn U.P. trainer heeft zijn trainingsschema zo gepersonaliseerd dat hij op een veilige manier hard kon trainen en resultaat kon behalen.
"Trainen met een blessure was een uitdaging. Mijn U.P. personal trainer, Ben, heeft mij ontzettend geholpen in het behalen van mijn doelen en transformatie."
"Hij motiveerde mij en hielp mij met zijn expertise. Hij was ook in staat om mijn trainingsprogramma dusdanig aan te passen dat ik geen last had van mijn schouderblessure."
"Dat hield in dat ik op een specifieke manier trainde waarbij we voorzichtig waren tijdens oefeningen die te maken hadden met mijn schouderbewegingen."
Alberto kwam met een specifiek doel naar U.P. Hij wilde fit worden, hij wilde zijn schouder terug in actie zien en hij wilde meer leren over voeding.
In slechts drie maanden, hebben zijn focus en toewijding ervoor gezorgd dat hij alles uit het U.P. programma heeft gehaald wat hij wilde.
"Ik had een gezond dieet, maar ik at te veel koolhydraten en niet genoeg vetten en proteïnes."
"U.P. heeft mij geholpen dat te veranderen en heeft daardoor mijn leven veranderd."
"Nu ben ik veel meer bewust over hoeveel calorieen ik dagelijks moet binnenkrijgen in de juiste macro verdeling. Vroeger at ik gewoon gezonde voeding zonder veel te letten op de kwantiteit en timing ervan."
Het was deze kennis die hij heeft opgepikt bij U.P. dat waarschijnlijk de meeste invloed had op zijn resultaat.
Na jarenlang alleen te hebben getraind, heeft de expertise van de beste trainers in de business uiteindelijk zijn resultaat een boost gegeven.
"Bij U.P. heb ik ook geleerd hoe ik moet trainen. Mijn kennis over de techniek is flink verbeterd".
"Ik train nu ook met een grotere intensiteit en betere vorm."
"Mijn energie levels zijn flink omhoog gegaan en ik lift zwaardere gewichten dan ooit tevoren."
Hij voegt daaraan toe: "Ik heb echt genoten van de sfeer in de gym. Ik mis mijn sessies nu al!"
Start jouw fitnessroutine op de meeste effectieve manier.
Schrijf je nu in voor ons personal training programma.
---
We show you the best, we don't show you the worst.
We show you people who follow the plans, not those who are all talk.
We show you those who inspire even us with their commitment to their results.
You cannot get results exactly like these. You are unique and that means you can only get your own best possible results.
Your results are a function of time spent following the plan; your genetic response to the right exercise and diet program; how hard you train; how consistently you come to the gym; how disciplined you are with your diet; & your starting point.
Oftentimes the lower your starting point (poor fitness, terrible body composition) the better your results.
We cannot do the work for you and the results you see here are a testament to the work ethic of our clients.
Our reputation is that we are the best trainers in the world for helping you to unlock your potential, & we can lead you to the door, give you the key, even turn the handle and push the door open, but we cannot walk through it for you.
In the end the result is down to you.
Like these results? Send us your details in the form below to receive information about our programs