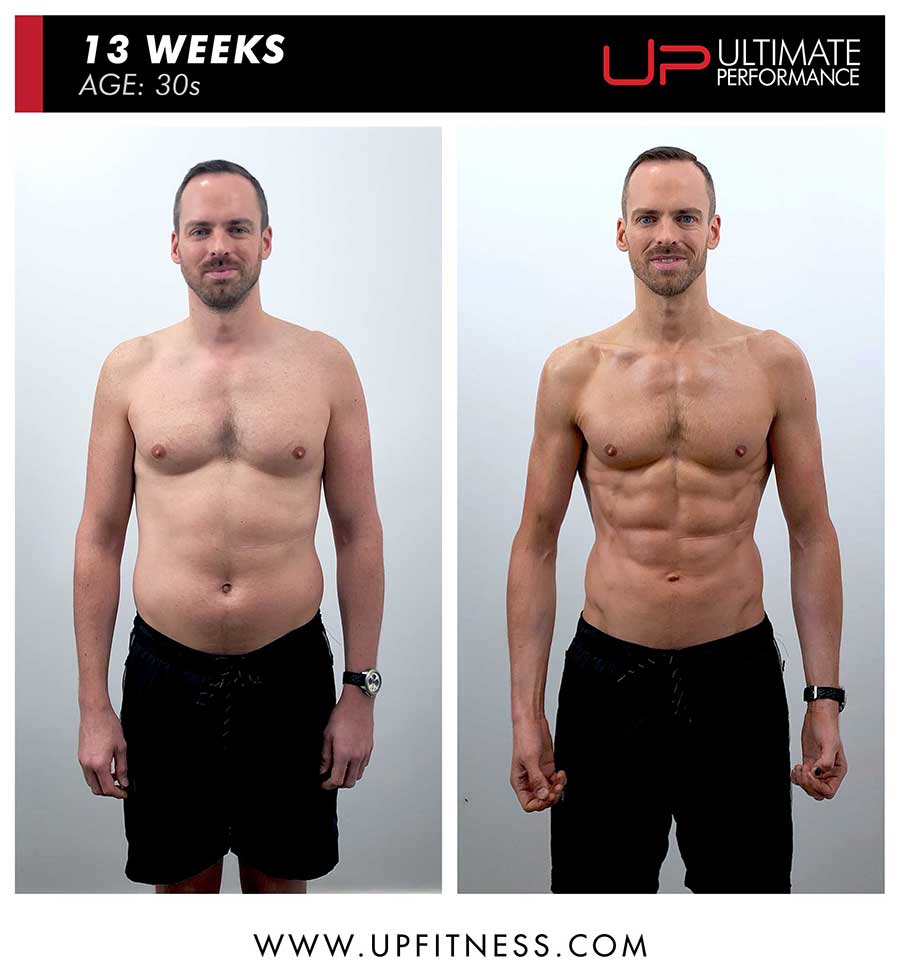 Jerome was hurtling headlong towards 40 and was ready to settle for mediocrity in his body, his fitness and his health.
Thirty-nine-year-old Jerome had all-but given up and was close to admitting to himself that when it came to his physique, this was the best that was possible.
Thankfully, his never-say-die attitude meant he wasn't going to slip into middle age without a fight.
He was ready for one last roll of the dice and felt strongly that Ultimate Performance was the right place to transform his body. He was proved right.
"The program transforms much more than your body – it transforms the quality of your life in so many ways – physical and mental – and you will use these learnings for a lifetime!"
"Now that I have completed the program, I can say this was one of the best decisions I have ever made! This is not just a body transformation – this is a LIFE TRANSFORMATION!"
Despite training on his own six days a week, Jerome just couldn't get the results he wanted on his own.
When he walked through the doors at U.P., he weighed 194lbs (88kg) – he walked out 13 weeks later 29lbs (13kg) lighter and armed with the knowledge to cement his results in place for life.
"I had huge expectations for myself because this was kind of the last resort to achieve the results I wanted.
"Before I came in, I was doing a lot of sports. I was going to the gym every day. I was eating a hell of a lot of food and carbs to gain mass. But I didn't see it going anywhere, and I was exhausted."
"I felt that I was doing the best I could, but I didn't see the results. When I compared myself with other people who weren't so active, especially at work, I felt I was doing pretty well, but in my heart, I didn't like where I was going."
---
SUPERCHARGE YOUR FITNESS ROUTINE WITH U.P.
GET IN TOUCH NOW AND LEARN MORE ABOUT OUR PERSONAL TRAINING PROGRAMME.
---
A full day at work followed by a couple of hours at the gym left him tired and sleepless. Not only was it not sustainable, but it also turned out to be quite pointless; Jerome had nothing to show for his hours at the gym.
U.P.'s all-around program helped him break through this plateau and take him to a whole new level.
"The most amazing aspect of the program is the educational part of it. I learned so much about training techniques, how to develop routines to improve sleep quality, and I rediscovered food.
"I questioned many habits and learnt to decode food. I learnt how to shop, how to organize the fridge, how to plan, how to measure – and also how to reward myself in a way that doesn't compromise my training success."
Jerome got to experience U.P.'s 'maximum results, minimum time' mantra first-hand, and learn how to get the most out of every single workout.
"I found this program so liberating! I have never trained so little before. As a consequence, I have more free time, more time to sleep, time to meet my friends and family. Before U.P. I used to start my day at 7 am and come back at 10 pm at night, too tired to do anything. I had no time and no life."
One of the unexpected benefits of the U.P. program was the positive impact on his professional life. More energy equalled sharper focus and better results.
"I discovered energy levels like never before, unleashing not only better performance in the gym but it also made me more alert at work. There is also a significant impact on the quality of your human interactions. It gave me a heightened level of energy and awareness of my surroundings and people around me, and that is great when you have to lead others as you can understand them better and focus on them more."
After working with five personal trainers in the past, Jerome was under the impression that he was doing his best and better results were just not possible.
On the one hand, he truly believed the "impossible is nothing" mantra, but on the other, he had a hard time applying it to his own fitness and training.
U.P. taught him that training is not just in the gym; it is a holistic process that succeeds when all components work together.
"It has made a permanent change in my life. I now know, that with the right technique, right discipline, and the right level of effort you can achieve things that you didn't believe were possible before."
"Before this, I always thought this is only possible for others, but it's super satisfying to see that you can do it as well.
"U.P. has given me an overall feeling of ultimate well-being by letting me become my best self.
"A major thank you to Kane, my P.T., and U.P. for transforming my life in so many aspects – I am looking forward to continuing the journey with you and U.P. and reach new, higher goals!"
---
Be your best, fittest, strongest, healthiest self.
Speak to our team about your fitness goals and we will help you get there!
We show you the best, we don't show you the worst.
We show you people who follow the plans, not those who are all talk.
We show you those who inspire even us with their commitment to their results.
You cannot get results exactly like these. You are unique and that means you can only get your own best possible results.
Your results are a function of time spent following the plan; your genetic response to the right exercise and diet program; how hard you train; how consistently you come to the gym; how disciplined you are with your diet; & your starting point.
Oftentimes the lower your starting point (poor fitness, terrible body composition) the better your results.
We cannot do the work for you and the results you see here are a testament to the work ethic of our clients.
Our reputation is that we are the best trainers in the world for helping you to unlock your potential, & we can lead you to the door, give you the key, even turn the handle and push the door open, but we cannot walk through it for you.
In the end the result is down to you.
Like these results? Send us your details in the form below to receive information about our programs