Many of our clients come to us with the goal of losing weight, getting leaner or fitting back into those jeans at the back of their wardrobe.
But a transformation isn't just about weight loss — it's about learning the skills to be able to live a long and healthy life with optimal physical fitness. When Christopher walked through the doors of Ultimate Performance Amsterdam, that's exactly what he wanted to achieve. His goal was to stay fit and healthy as he got older.
---
TAKE THE FIRST STEP WITH THE WORLD'S LEADING PERSONAL TRAINERS
---
He wanted to learn as much as possible, so he would have the expertise to do this.
"My main focus is to try and live for a long time as healthy and productive and capable as possible. My goal was to acquire the knowledge to help me achieve it. In terms of achieving my goals, it's exceeded my expectations. It's taught me a lot of things that I didn't expect to learn."
Even though his main aim was education, Christopher managed to achieve a full body transformation, losing 8cm off his waist and earning his dream body in just eight weeks.
Before coming to U.P., Christopher considered himself relatively healthy. He was an avid runner, embarking on 5km runs every other day, he ate home-cooked meals and was mindful of his portion sizes. But after starting at U.P., Christopher learned so much more about nutrition and training to getting adequate rest and hydration.
---
ENQUIRE ABOUT HOW U.P. CAN HELP YOU ACHIEVE YOUR FITNESS GOALS
---
"To me, before I came here, if I ran 5km three times a week, I was fine. So, before I ran a 5k and after I ran a 5k, I didn't have to worry about my health. That was my perception of it, but just coming here you learn there's a lot more that goes into taking care of yourself than just doing 25 minutes of cardio every other day."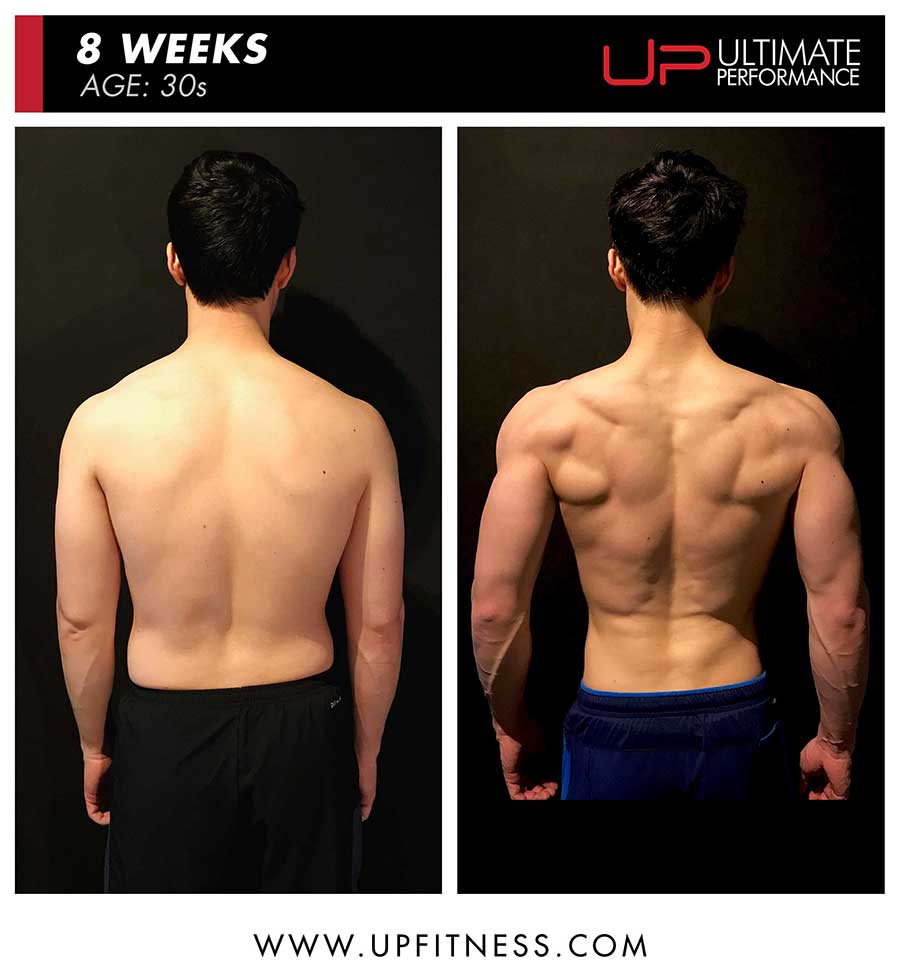 Not only was Christopher blown away by the amount of knowledge amongst the trainers at U.P., he also was amazed by how welcoming and supportive everyone was.
"After a while, it didn't seem like you had one personal trainer but a whole team behind you."
It was this support from the personal training team along with the accountability and structured programmes which allowed Christopher to be so successful in both gaining knowledge for the future and in his transformation.
---
ENQUIRE NOW ABOUT HOW U.P. CAN MAKE YOUR FITNESS GOALS A REALITY
---
Christopher is now fully equipped with all the skills and tools he needs to live a healthy life, and his only regret is that he didn't do it years ago.
"I feel the programme is absurdly cheap compared to what you receive: a great foundation of fitness, knowledge and new habits which you will draw on for decades. It's hard to think of a better investment. Personally, I feel like I should have done this when I was 4-5 years younger and first started taking my health seriously — the payoff in just those years alone would have been tremendous."
Christopher's transformation goes beyond aesthetics, he's built himself a wealth of knowledge that will help him continue to achieve his goal of being as healthy as possible for as long as possible. He's also earnt a sculpted physique in the process, all in just eight weeks.
---
We show you the best, we don't show you the worst.
We show you people who follow the plans, not those who are all talk.
We show you those who inspire even us with their commitment to their results.
You cannot get results exactly like these. You are unique and that means you can only get your own best possible results.
Your results are a function of time spent following the plan; your genetic response to the right exercise and diet program; how hard you train; how consistently you come to the gym; how disciplined you are with your diet; & your starting point.
Oftentimes the lower your starting point (poor fitness, terrible body composition) the better your results.
We cannot do the work for you and the results you see here are a testament to the work ethic of our clients.
Our reputation is that we are the best trainers in the world for helping you to unlock your potential, & we can lead you to the door, give you the key, even turn the handle and push the door open, but we cannot walk through it for you.
In the end the result is down to you.
Like these results? Send us your details in the form below to receive information about our programs