Ultimate Performance heeft niet alleen Marco's lichaam getransformeerd, zijn tijd bij Ultimate Performance heeft er ook voor gezorgd dat Marco van zijn verlegen persoonlijkheid af is gekomen en dat heeft er weer voor gezorgd dat zijn sociale leven van de grond is gekomen.
Chef Marco wist heel zeker dat hij zijn leven wilde veranderen.
Hij was een hard werkende chef maar vond dat hij lui aan het worden was- hij gaf aan zichzelf toe dat hij veranderd was in een bankhanger met een verslaving aan junkfood.
Hij voelde diep van binnen dat er meer uit het leven te halen moet zijn dan werken en vervolgens thuis op de bank belanden en naar de tv staren.
Op dat moment nam hij de beslissing genoeg is genoeg. Hij besloot zich te gaan focussen op fitness, zijn gezondheid en het opbouwen van droge spiermassa.
Ultimate Performance heeft hem geholpen met het behalen van zijn life-changing results- in slechts 12 weken tijd verloor hij 3kg en heeft hij het droge en gespierde lichaam waar hij altijd van droomde.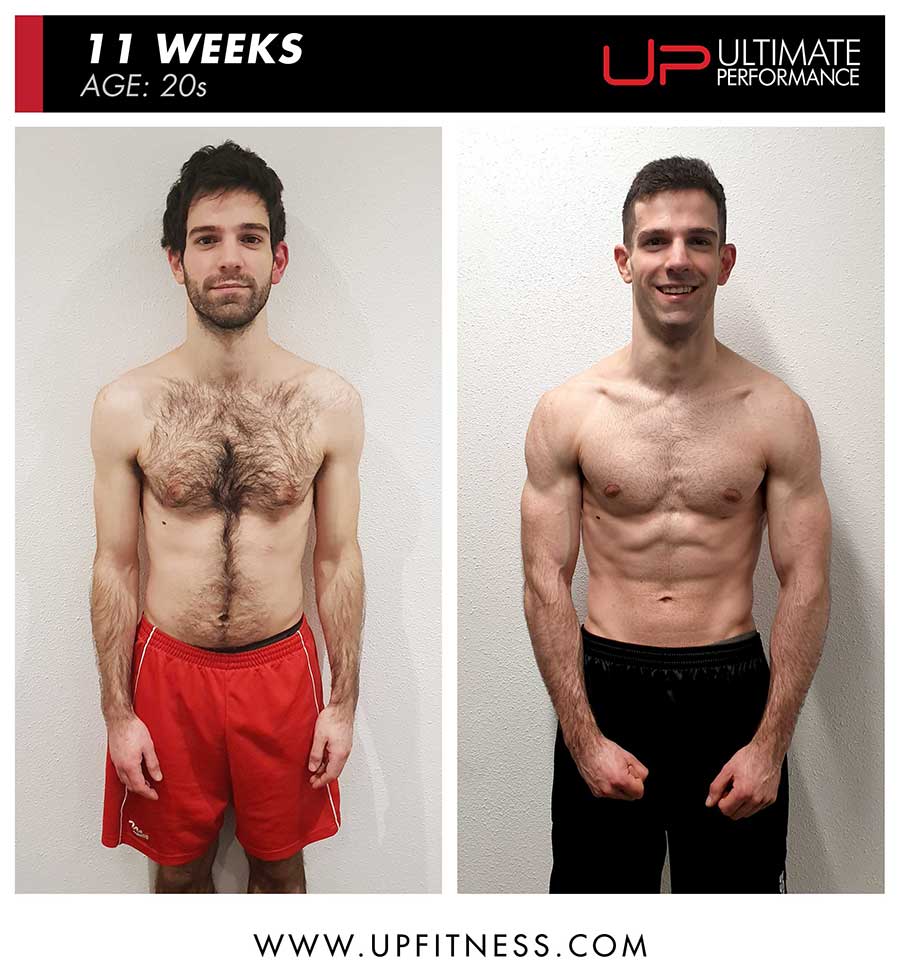 'Eerlijk gezegd ben ik een ander persoon nu!'
'Ik ben zonder twijfel veel zelfverzekerder, dit heeft mij ontzettend geholpen met het maken van belangrijke beslissing in mijn persoonlijke leven en in mijn werk.'
Slecht een paar weken geleden zag Marco zijn leven er heel anders uit dan het nu is.
Hij at ongezond en maakte geen progressie met zijn training en gezondheid.
'Ik at ontzettend ongezond voor ik aan dit programma ben begonnen- veel junk en bevroren eten en ik kon fast food niet laten staan; ik at nooit groenten!
'Mijn levensstijl was iedere dag hetzelfde: Eerst werken en daarna thuis op de bank chillen; ik voelde me te lui om ook maar iets anders te doen.
'Ik hield niet van mijn eigen lichaam en daardoor had ik minder zelfvertrouwen. Tegelijkertijd wou ik niet naar een gewone sportschool gaan waar niemand met je mee kijkt hoe je je training doet.'
---
---
Direct na het starten bij U.P. voelde Marco een verandering in alle facetten van zijn leven. Hij voelde zich veel energieker waardoor het voor hem zelfs bijna onmogelijk werd om te luieren op de bank.
'Ik kan op het moment nog geen minuut stilstaan! Ik kan niet geloven dat ik mijn vrije tijd verspilde aan chillen op de bank; nu wil ik altijd iets doen!'
'Mijn werk is er ook op vooruit gegaan, ik heb veel meer focus en ik word niet meer moe. Met zoveel energie heb ik ook een veel actiever sociaal leven.'
Zijn transformatie bij U.P. heeft niet alleen de buitenkant veranderd, het heeft Marco's persoonlijkheid op een positieve manier veranderd.
'Het is voor de hand liggend, maar het belangrijkste dat ik tijdens deze transformatie heb geleerd is dat wanneer je gefocust, gemotiveerd en gedisciplineerd te werk gaat je elk doel dat je maar wil kan behalen.'
'Het belangrijkste dat mij overkomen is dat ik nu beschik over veel meer zelfvertrouwen.'
'Ik was ontzettend verlegen, maakte vrijwel geen nieuwe vrienden en ik kon alle problemen op mijn werk niet managen. Maar dat is nu helemaal anders!'
'Voor de eerste keer in mijn leven houd ik van mijn lichaam en ben ik blij met wat ik zie in de spiegel- en als ik heel eerlijk mag zijn dan heb ik in de laatste maanden nogal wat tijd voor de spiegel doorgebracht. Hierdoor ben ik zelfverzekerder geworden, minder verlegen, vriendelijker, en spontaner, vooral met vrouwen.'
Op het oog was het voor Marco een aanzienlijke uitgave maar nu voelt het voor hem als een investering in zichzelf die het dubbel en dwars waard is.
Al het harde werken in de afgelopen maanden betaald zich nu uit doordat hij veel meer uit zijn leven haalt.
'U.P. is een goede investering van mijn tijd en geld geweest- misschien ietwat aan de dure kant, maar uiteindelijk ben je 100% tevreden met het resultaat. Het is een zwaar programma maar het is het meer dan waard.'
Marco zegt dat hij zijn fantastische resultaat niet had kunnen behalen zonder de motivatie, toewijding en professionaliteit van zijn U.P. trainer.
'Mijn trainer steunde mij dagelijks- hij was iedere dag beschikbaar (zelfs op vakantie) gedurende de hele dag en zelfs in de avonden. Het bleef niet alleen bij hem! Alle trainers bij U.P. zijn daar om je te helpen en te motiveren.'
'Beginnen met trainen bij een U.P. gym betekent dat je onderdeel wordt van een familie die zorgt voor jou en je doelstellingen!'
---
We show you the best, we don't show you the worst.
We show you people who follow the plans, not those who are all talk.
We show you those who inspire even us with their commitment to their results.
You cannot get results exactly like these. You are unique and that means you can only get your own best possible results.
Your results are a function of time spent following the plan; your genetic response to the right exercise and diet program; how hard you train; how consistently you come to the gym; how disciplined you are with your diet; & your starting point.
Oftentimes the lower your starting point (poor fitness, terrible body composition) the better your results.
We cannot do the work for you and the results you see here are a testament to the work ethic of our clients.
Our reputation is that we are the best trainers in the world for helping you to unlock your potential, & we can lead you to the door, give you the key, even turn the handle and push the door open, but we cannot walk through it for you.
In the end the result is down to you.
Like these results? Send us your details in the form below to receive information about our programs