Estelle houd van de sterke, slanke en zelfverzekerde vrouw die ze in de spiegel ziet naar haar 12-weekse transformatie bij Ultimate Performance Amsterdam.
Jarenlang had de 22-jarige Estelle last van haar gewicht en problemen met haar suikerrijke dieet.
Net als vele andere vrouwen had ze al veel verschillende programma's en diëten geprobeerd, maar niets leek te werken om haar lichaam blijvend te veranderen.
Estelle, die werkt in de audioproductie in Amsterdam dacht dat ze niets meer kon veranderen aan haar lichaam. Ze voelde zich niet lekker in haar vel en erg gedemotiveerd.
Door drie keer in de week met gewichten te trainen terwijl zij een simpel voedingsplan volgde en wat meer op haar dagelijkse beweging lette verloor zij verbazingwekkend veel gewicht.
Over een periode van 12 weken is zij 14kg verloren, één derde van haar lichaamsgewicht, terwijl ze steeds dichter bij haar droom lichaam in de buurt komt waarvan ze dacht dat dit niet meer mogelijk zou zijn.
Wat vindt Estelle het beste van haar transformatie? Estelle zegt: "De glimlach op mijn gezicht wanneer ik mijn bikini aan heb."
"Ik heb nog een klein stukje te gaan maar heb al 14kg lichaamsgewicht en 12% lichaamsvet verloren, ook voel ik me een stuk sterker en dat is ook echt te zien."
"Met U.P. heb ik bereikt wat ik altijd al wilde bereiken. Het is een investering die het meer dan waard is."
Estelle onthult de sleutel tot haar succes tijdens haar transformatie. Dit zijn de belangrijkste tips die haar geholpen hebben met haar voedingskeuzes en om de verleidingen naar suikers te weerstaan waardoor zij blijvende resultaten boekt met haar lichaam.
---
U.P. OVERTROF ESTELLE'S VERWACHTINGEN, KLIK HIER OM TE ZIEN HOE WIJ JOU KUNNEN HELPEN
---
Wat waren je belangrijkste motivatie punten waardoor je besloten hebt om een transformatie bij U.P. te beginnen?
Ik had al veel verschillende diëten en trainingsprogramma's geprobeerd maar niets leek te helpen.
Of ik at goed zonder goed te trainen, of ik trainde op een goede manier zonder mijn voeding te optimaliseren.
Ik heb altijd al problemen gehad met mijn gewicht en hoe ik eruitzag. Ik zij tegen mijzelf dat het nu anders zou gaan.
Hoe voelde je je lichamelijk en mentaal voordat je begon bij U.P.?
Ik voelde me slap! Ik sliep slecht, at alsof ik geen idee had wat gezond eten was (wat ik wel wist, maar ik deed er niet aan) en trainde niet regelmatig.
Ik was altijd snel buiten adem en had geen doorzettingsvermogen tijdens de trainingen die ik deed.
Voor dat ik bij U.P. begon verwachte ik dat ik er de rest van mijn leven zo uit zou zien.
Hoe was je training, voeding, en lifestyle voordat je bij U.P. begon?
Regelmatig at ik suikerachtige producten bij bijna elke maaltijd, ook at ik een hoop brood en kaas. Ik hield totaal geen rekening de porties die ik at.
Ik reserveerde sportschool lessen maar besloot vaak om toch niet te gaan. Ook zette ik de wekker regelmatig vroeg om nog even te kunnen sporten maar de volgende ochtend bleef ik toch liever in mijn bed liggen.
---
KLIK HIER OM EEN GRATIS CONSULT TE BOEKEN
---
Hoe is je voeding en lifestyle veranderd toen je met je transformatie bij U.P. begon?
Ik kreeg een nieuw voeding en lifestyle plan wat ik in het begin lastig vond, nu houd ik ervan.
Ik begon met een 21 dagen eliminatie dieet waarin ik voornamelijk vlees, vis en groeten at. Dit plan gebruik ik nog steeds als een richtlijn maar dan wel iets flexibeler.
Ik kreeg het advies om 20.000 stappen per dag te maken, 3 liter water per dag te drinken, en minimaal 7 uur te slapen per nacht.
De combinatie van al deze dingen en drie geweldige trainingen per week zorgde ervoor dat ik veel sneller gewicht verloor dan ik verwacht had.
Tijdens de transformatie heb ik geen alcohol gedronken waar ik het aan het begin best moeilijk mee had. Na een paar weken had ik hier geen moeite meer mee, het is de calorieën en de kater de volgende morgen gewoon niet waard.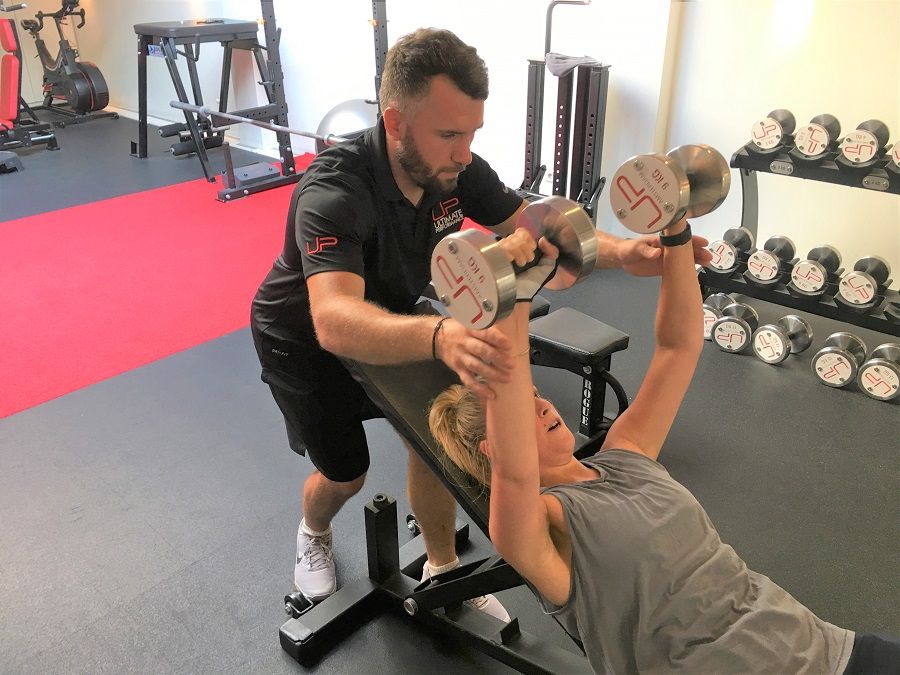 Wat voor effect heeft dit op je gezondheid, prestaties, dagelijkse energy en lifestyle gehad?
Ik begon al snel beter te slapen, ik kijk positiever naar het leven en voel me erg energiek. Nu houd ik van de persoon die ik in de spiegel zie.
Anderen merken dit ook! Mijn collega's zagen een positieve verandering in mijn gedrag. Mijn familie, die ik per telefoon sprak vertelde mij dat ik veel vrolijker klonk aan de telefoon.
Wat is de grootste fout die je begaan hebt tijdens je dieet voor dat je met je transformatie begon, en hoe is dit veranderd bij U.P.?
Suiker in de ochtend was een grote fout. Een schaal met yoghurt, fruit en honing klinkt erg onschuldig maar was geen goed idee om mijn dag mee te starten.
Dit ontbijt piekte mijn bloedsuiker wat een paar uur later weer vol naar beneden crashte. Dit maakte mij super hongerig en leed vaak tot slechte voeding keuzes.
Ik was helemaal vergeten hoe een normaal ontbijt eruitzag voor mij en zie mijn ontbijt niet anders dan de andere maaltijden van de dag.
Dit betekend dat ik maaltijden als broccolisoep, mager vlees, gestoomde kabeljauw met wortelen at voor zowel mijn ontbijt, lunch, als diner. Allemaal huisgemaakt natuurlijk en zo vers als mogelijk. Tijdens drukke weken bereide ik mijn maaltijden van te voren klaar in het weekend.
Wat was de belangrijkste lifestyle verandering die je gemaakt hebt en hoe heeft dit je geholpen met het bereiken van je doelstelling?
Voldoende slapen! Ik ga vroeg naar bed en doe mijn best om niet naar mijn telefoon en laptop te kijken een uur voor dat ik ga slapen.
Wanneer ik wakker wordt na een goede nachtrust merk ik dat ik goede keuzes maak en beter presteer tijdens het sporten.
Hoe vond je de trainingen? Paste dit bij je drukke lifestyle?
Ik vertelde U.P. op welke tijden ik kon trainen waarop zij de training sessies zo hebben ingedeeld dat het precies in mijn wekelijkse schema paste.
Ben Stew was mijn Personal Trainer en ik vond hem geweldig. Hij was altijd op mij gefocust om er voor te zorgen dat ik elke oefening correct uitvoerde en hielp mij om mezelf verder te pushen en grenzen te verleggen.
Ook heeft hij een hoop humor. Hij maakte leuke grappen waardoor ik snel vergat hoe uitgeput ik was na bepaalde oefeningen.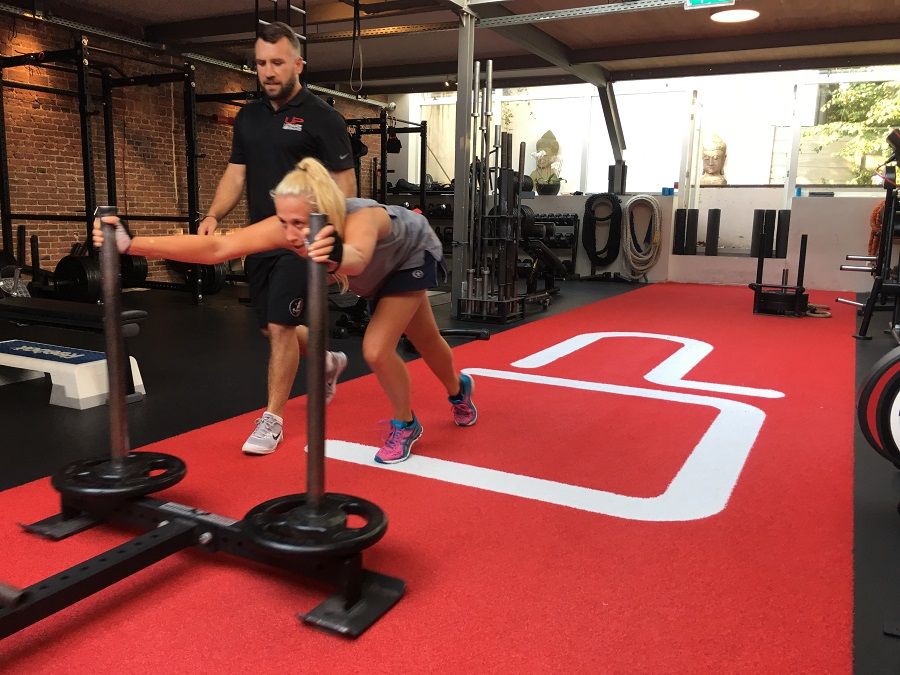 Wat waren de meest belangrijke dingen die je geleerd hebt tijdens dit proces en wat heeft je het meest geholpen om deze transformatie tot een succes te maken?
Dat ik me moet herinneren dat alle aspecten van mijn lifestyle even belangrijk zijn. Als ik goed slaap voel ik me erg positief als ik wakker wordt. Wanneer ik mij positief voel op het moment dat ik wakker wordt maak ik een lekkere gebalanceerde maaltijd klaar en train ik beter dan anders. Wanneer ik dan weer naar bed ga voel ik dat ik wat positiefs bereikt hebt en start deze cyclus weer opnieuw.
Hoe heeft deze transformatie je veranderd en op wat voor manier zal het een positief effect op je hebben in de toekomst?
Het heeft mij duidelijk gemaakt wat ik in een korte tijd kan bereiken. Alles wat ik geleerd hebt neem ik met mij mee omdat dit erg goed voor mij blijkt te werken.
---
Ben je geïnspireerd geraakt en ben je klaar om aan jouw eigen transformatie te beginnen? Vul dan het onderstaande formulier in. 
We show you the best, we don't show you the worst.
We show you people who follow the plans, not those who are all talk.
We show you those who inspire even us with their commitment to their results.
You cannot get results exactly like these. You are unique and that means you can only get your own best possible results.
Your results are a function of time spent following the plan; your genetic response to the right exercise and diet program; how hard you train; how consistently you come to the gym; how disciplined you are with your diet; & your starting point.
Oftentimes the lower your starting point (poor fitness, terrible body composition) the better your results.
We cannot do the work for you and the results you see here are a testament to the work ethic of our clients.
Our reputation is that we are the best trainers in the world for helping you to unlock your potential, & we can lead you to the door, give you the key, even turn the handle and push the door open, but we cannot walk through it for you.
In the end the result is down to you.
Like these results? Send us your details in the form below to receive information about our programs