Het onder controle hebben van mijn dieet heeft daadwerkelijk het verschil gemaakt in mijn leven.
Nuno kon moeilijk van de zoetigheid afblijven en had zelf niet de kennis op gebied van voeding in huis om het fysiek te bouwen dat hij altijd al wilde hebben.
De 35-jarige operations manager voelde zich constant moe en traag en zei dat hij ondanks dat hij aardig in "shape" was, zich toch nog altijd te dun voelde.
Dat veranderde allemaal na 14 weken bij Ultimate Performance Amsterdam, waar hij zijn dieet op orde kreeg en een sterk en gespierd fysiek bouwde, na 5 kilo spiermassa te zijn aangekomen en zijn vetpercentage gehalveerd te hebben.
Zijn vrouw was zo onder indruk van zijn nieuwe lichaam dat ze zelf is begonnen aan een transformatie bij UP.
"Ik ben van 17% lichaamsvet naar 8.5% gegaan, en ben daarbij spiermassa aangekomen tot waar ik me eindelijk sterk goed voelde over mezelf.
"Als ik mijn transformatie in een woord zou moeten omschrijven dan is dat: fantastisch! Mijn vrouw beaamd dat nog iedere dag!"
Het is werkelijk ongelooflijk hoeveel je kan veranderen in 14 korte weken – en Nuno's transformatie en indrukwekkend nieuw fysiek zijn een bewijs daarvan.
KLIK HIER OM EEN GRATIS CONSULT TE BOEKEN
Nog maar een paar weken geleden had Nuno het gevoel dat zijn doel om een droomlichaam te bouwen simpelweg onhaalbaar waren.
"Ondanks dat ik een sportief verleden heb, op hoog niveau actief ben geweest en hard en vaak heb getraind, het wilde maar niet lukken om iets aan mijn shape te veranderen"
"Ondanks dat ik fit was, leek ik er toch altijd mager uit te zien"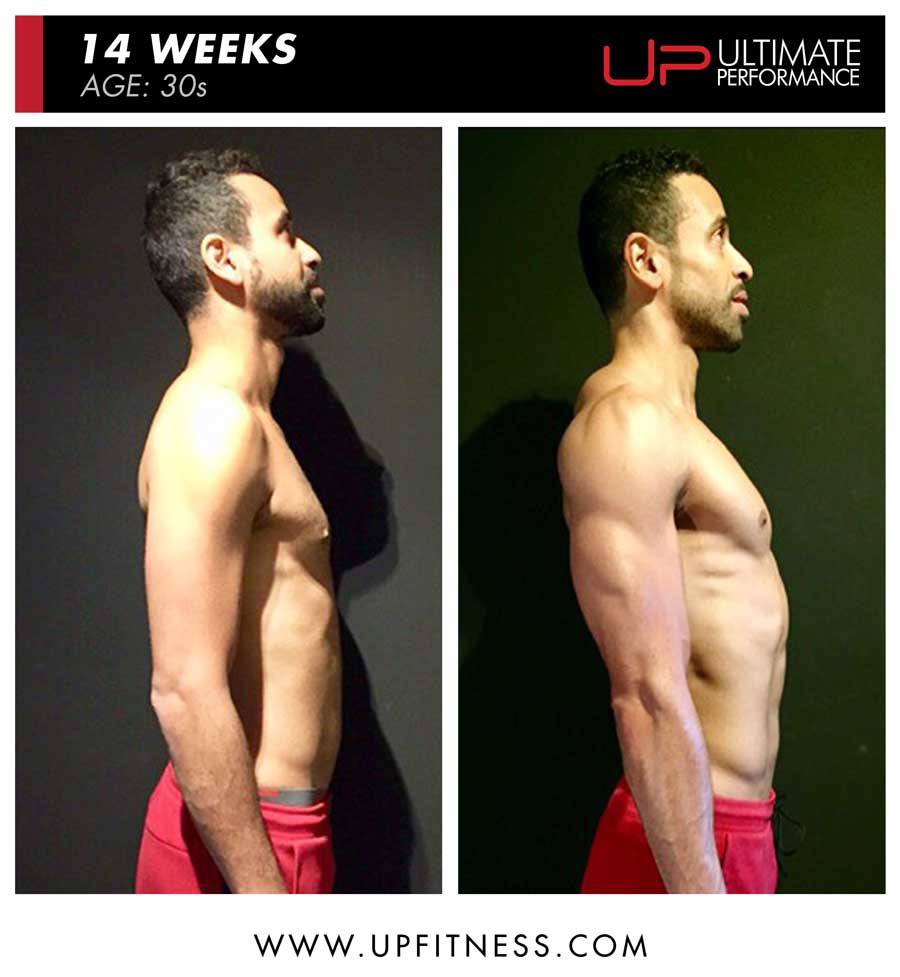 Nuno had rugklachten welke dagelijkse dingen in het leven lastiger maakten, zo kon hij niet vrij met zijn dochtertje spelen wat hem vaak frustreerde.
Ook worstelde hij met zijn voedingspatroon, waardoor hij constant weinig energie had en zich eigenlijk de hele dag slaperig voelde.
Het was niet zo dat hij constant junk food at, maar zijn ongecontroleerde eetpatroon met veel suikers stonden zijn fitness goals in de weg.
"De beste manier om mijn dieet te beschrijven is dat het simpelweg niet bestond"
UP OVERTROF NUNO'S VERWACHTINGEN, KLIK HIER OM TE ZIEN HOE WIJ JOU KUNNEN HELPEN
"Ik vermeed junkfood, maar buiten dat at ik vrijwel alles, waar ik maar wilde en hoe ik maar wilde. Vooral veel vlees, rijst, aardappelen, pasta's etc. en hier kwamen maar zelden groenten bij aan te pas.
"Ik at vaak chocola en andere zoetigheid in plaats van fruit na een maaltijd, daarnaast at ik veel te veel koolhydraten gedurende de dag en te weinig gezonde vetten"
Alles veranderde toen Nuno zijn transformatie begon, zijn dieet werd aangepast en hij maakte kleine veranderingen in zijn levensstijl, welke hielpen om de grote veranderingen waar te maken wat hij voorheen niet voor mogelijk hield.
"Ik begon meer gevarieerd te eten en er werd een betere balans gevonden tussen proteïne, koolhydraten en gezonde vetten"
"Ik begon drastisch meer water te drinken, en ik ben gestopt met het drinken van alcohol, zelfs niet op sociale aangelegenheden en om eerlijk te zijn mis ik het niet!
"Ik stopte met het eten van zoetigheid en waarschijnlijk doordat ik regelmatiger ging eten.
Door consistentie met zijn dieet en training begon hij week na week resultaat te zien.
"Vaak vroeg ik me af: waar ben ik in hemelsnaam mee bezig? Dit is zwaar!? Maar de gemoedelijke en sportieve sfeer binnen UP geven je de kracht om steeds maar door te zetten.
U.P. OVERTROF NUNO'S VERWACHTINGEN, KLIK HIER OM TE ZIEN HOE WIJ JOU KUNNEN HELPEN
"Elke meeting was spannend en na de eerste resultaten te zien, kreeg ik honger naar meer."
De resultaten die Nuno in slechts 14 weken bereikte waren verbluffend. Je hoeft alleen maar naar zijn 'voor en na' foto's te kijken om te zien wat hij in zo'n korte tijd bereikt heeft.
Maar voor Nuno was het meer dan alleen maar een indrukwekkend lichaam bouwen – het gaat vooral ook om de kennis die hij heeft opgedaan, de vaardigheden die hij heeft opgedaan en de bredere impact die het heeft gehad op zijn leven en daarbij fitter, slanker en gezonder zijn.
"Deze ervaring heeft mijn manier van leven veranderd. Ik ben me veel meer bewust van hoe ik eet en drink, waardoor ik controle heb over hoe ik me me voel, of op het gebied van energie gedurende de dag, maar ook in termen van voldoening en zelfvertrouwen .
"Mijn lichaam herinnert me er nu constant aan mijn vermogen om te presteren en ondanks dat ik een 'ik kan alles doe'-mentaliteit heb, beschouw ik het als een manier om toekomstige obstakels in het leven sterker te benaderen, ik vind dat iedereen deze mogelijkheid zou moeten hebben
Hij voegt er aan toe: "ik heb zo genoten van deze ervaring dat ik een carrièrestap naar deze wereld overweeg."
We show you the best, we don't show you the worst.
We show you people who follow the plans, not those who are all talk.
We show you those who inspire even us with their commitment to their results.
You cannot get results exactly like these. You are unique and that means you can only get your own best possible results.
Your results are a function of time spent following the plan; your genetic response to the right exercise and diet program; how hard you train; how consistently you come to the gym; how disciplined you are with your diet; & your starting point.
Oftentimes the lower your starting point (poor fitness, terrible body composition) the better your results.
We cannot do the work for you and the results you see here are a testament to the work ethic of our clients.
Our reputation is that we are the best trainers in the world for helping you to unlock your potential, & we can lead you to the door, give you the key, even turn the handle and push the door open, but we cannot walk through it for you.
In the end the result is down to you.
Like these results? Send us your details in the form below to receive information about our programs