In just nine weeks, Antonio built his perfect body ready to hit the beach on holiday.
For almost three years, Antonio had tried yo-yo-dieting and various fitness trends, but failed to control his weight and get the lasting results he wanted.
Now in his mid-30s, Antonio thought he was past his prime and this was the best he could get.
With a beach holiday coming up, Antonio joked to his friends that he'd get a sculpted set of six-pack abs ahead of their getaway – and that's what he set out to accomplish when he signed up to Ultimate Performance Singapore.
Antonio was blown away by the results he could see after training for just two weeks.
Nine short weeks later, Antonio's lost 4.8kg and achieved the body he'd always wanted.
"By the end of my 9-week programme, I was in the best shape I have ever been in my life.
"I would recommend U.P. to anyone out there who's tired of the half-hearted self-promises to get fit that go unfulfilled year in, year out. You owe it to yourself to finally see results, not just promises."

---
ANTONIO STARTED SEEING RESULTS BY THE SECOND WEEK – AND YOU CAN TOO! CLICK HERE TO FIND OUT HOW.
---
Antonio thought that it was too late for him to improve his physique.
"I'm in my mid-30s. Not many people expect someone to start transforming their body at my age."
"Physically and mentally, I thought I'd reached a point where this is pretty much it for me, but now that I've gone through the programme, I'm thinking I can probably take this even further."
All of Antonio's doubts were shattered once he started to see signs of progress in just a couple of weeks.
"It's amazing how I started seeing results as early as the second week. I would start to see fat just coming off my body where I hadn't seen without fat in a while."
Antonio knew that he was on the right track.
"I knew what I was doing was working. I knew that this was going somewhere and that I could achieve the beach body I wanted in time for my holiday."
For almost three years, Antonio was exercising by himself in his own way, but wasn't seeing the progress he had hoped he would.
"I've always been so used to being self-sufficient, and that includes my fitness and health. After almost three years of just doing things my way and not seeing the results I thought I should have at this point, I finally decided to be more open to receiving expert help."
---
---
With help from his trainer, Raymond, Antonio was finally able to reap the benefits.
"I was surprised to learn that I wasn't getting the most from my previous fitness routine because of improper form and technique, which my trainer helped me address.
"I was also surprised by how the basics of physical fitness somehow become easier to execute and maintain when you're held accountable by a trainer."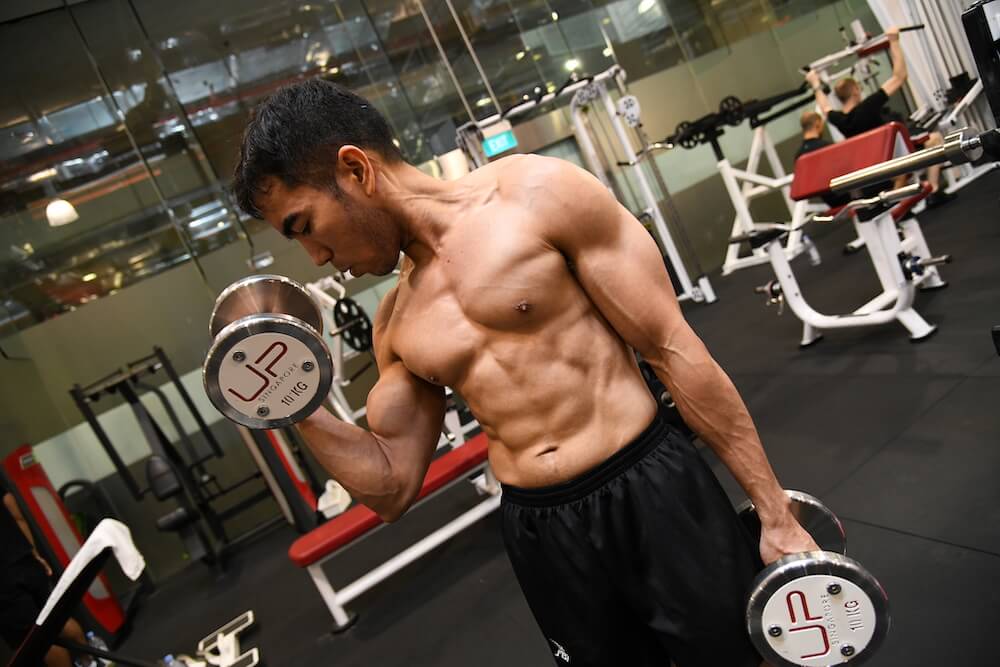 The closest U.P. location to Antonio is nowhere near where he lives or works, which meant that for the most part, he had to train remotely.
"I think the biggest challenge for me was that I could only do this once a week with my trainer, so it's kind of been distance-learning for me. That's why I was half-sceptical as to whether I'd be able to see results."
But he's proved that with commitment, it can be done.
"With the right mindset, the right discipline, and the right people behind you – it is possible!
"My personal trainer stuck with me for the rest of the week; he'd ask me to show him what I was eating and how my training sessions were going. I just needed to keep myself motivated to eat the right things and go to the gym every day."
---
---
Whether you're one of those sceptics who think your fitness goals are beyond reach, or you're simply tired of fitness fads that don't really go anywhere, Antonio has some advice.
"I was one of you guys!
"I was one of those people commenting on pages and ads saying that you can't lose 10, 15 pounds in two months – but I want to tell you that it is possible."
"The physical results are obviously great, but that's not all that I gained from this experience. The knowledge I acquired over the last couple of months has set me up for all my future fitness goals."
Now that Antonio's exceeded all his expectations, he's looking forward to pushing himself even further.
"It's time to get back to work!
"I've been meaning to take up commercial modelling as a hobby, and getting this slimmer body and these six-pack abs has definitely helped.
"I never thought I'd get to this physical stage of fitness at this point in my life – but now that I have, it seems like the sky's the limit and I want to come back for more!"
---
Don't take Antonio's word for it. Join us and witness the transformation for yourself! Get in touch by filling the form below.
We show you the best, we don't show you the worst.
We show you people who follow the plans, not those who are all talk.
We show you those who inspire even us with their commitment to their results.
You cannot get results exactly like these. You are unique and that means you can only get your own best possible results.
Your results are a function of time spent following the plan; your genetic response to the right exercise and diet program; how hard you train; how consistently you come to the gym; how disciplined you are with your diet; & your starting point.
Oftentimes the lower your starting point (poor fitness, terrible body composition) the better your results.
We cannot do the work for you and the results you see here are a testament to the work ethic of our clients.
Our reputation is that we are the best trainers in the world for helping you to unlock your potential, & we can lead you to the door, give you the key, even turn the handle and push the door open, but we cannot walk through it for you.
In the end the result is down to you.
Like these results? Send us your details in the form below to receive information about our programs