"I look at myself in the mirror and I feel love towards my body. It has brought a 180-degree change in how I perceive myself."
Polona had never been able to make her fitness a priority.
With a young child at home, responsibilities at work, and a handful of other demands on her time, it seemed as if there weren't enough hours in the day to train.
But Polona realised that was no excuse.
She faced the reality that her pregnancy weight wasn't going to disappear on its own, and reached out to Ultimate Performance seeking expert help.
Now, she perceives herself in a whole different way. Losing 14kg has given her natural confidence and visible muscle that she loves, in whatever outfit she chooses to wear.
Just three one-hour training sessions per week have transformed Polona's figure. Even better, she's built an entirely new, fail-proof understanding of lifting weights and how to eat well.
After being sceptical at first, read how her body transformation was made possible here…
Why did you decide to join U.P.?

I noticed that my weight was going up. So, I wouldn't say I was super happy with my body. I was not able to squeeze myself into some of my favourite clothes, and I was very, very close to just giving them away to my friends.
In terms of physical activities, I was not strong, I couldn't even lift my son, and many other physical activities were just impossible. I knew I had to exercise more, but I struggled to find time to dedicate to myself.
My training before U.P. was not consistent. There was absolutely no strategy, no program, no focus, and no habit of exercising where I would really stick to any kind of a plan.
I really struggled to stick with it. I think it was also the type of exercise that didn't bring me enough results to motivate me to keep going.  
Tell us about your experience at U.P.

I absolutely love coming to U.P. One of my first impressions was that this is not like any gym I've seen before. The personal trainers are really working hard, pushing their clients to achieve their best.
I train early in the morning. It's a great way to start the day, and I like the environment; it is supportive and enthusiastic.
Every time you look around the gym, you can see someone who has made huge progress since you last saw them.
That gives you an additional boost because you feel – if they can do it, I can do it as well.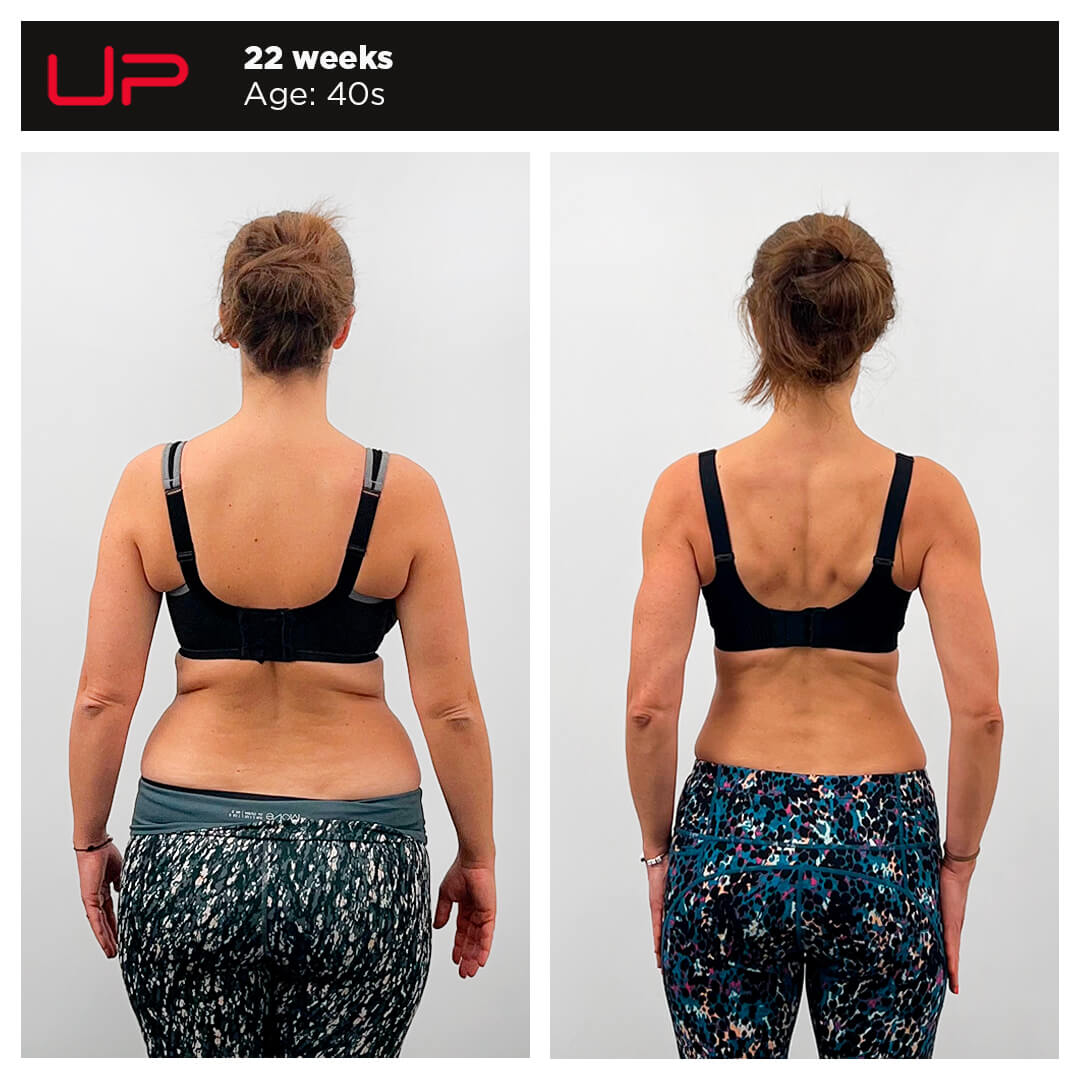 How has U.P. impacted you physically and otherwise? 

Obviously, one big change in my life was that my body changed. I lost a lot of weight.
More importantly, I gained a lot of muscle and strength. Now I am way more active. That's just one side of it; U.P. has also positively impacted my mental health and how I feel in general.
I look at myself in the mirror, and I feel love towards my body, and I'm impressed with myself. It has brought a 180-degree change in how I perceive myself, how I now perceive my fitness journey, and how I eat my food.
I'm enjoying the new me. 
What are the most powerful lessons you have learned about training and nutrition?

That you need a structure! If I talk about nutrition specifically, understanding what you're eating was core to the process.
Understanding the macros made a really big change in how I perceive my food. Being accountable was something else that I learnt at U.P. I didn't skip a single lesson or session.
Even now, when I go on my own to a commercial gym, I'm sticking to the routine. So, the power of building that habit is very important for me.  
How did you find working with a personal trainer? 

I absolutely love my time with my trainer and with U.P. in general. I came to U.P. completely inexperienced!
I was afraid of gyms, but with my trainer's help, I made a complete shift. He pushed me when I needed pushing. He helped me when I needed help. He motivated me when I needed motivation, but most importantly, he was there to support me through this journey.
Overall, it was an extremely good experience. I'm very happy that I started my fitness journey at U.P., but more importantly, now I feel confident that I can continue this on my own. 
What would you say to people like yourself who are thinking of starting at U.P.?

Two things really stood out at U.P. – the structured dedication and the team spirit at the gym.
I feel like it's not just my own personal trainer, but others as well in the gym that come and cheer you when it's hard and compliment your achievement. It feels like everyone in the gym is supporting you and cheering you on.
At the start of my journey, I was a bit sceptical. And if it weren't for a friend who has gone through the journey and showed me her photos, I wouldn't have believed it possible. Now that I've been through the journey myself, all I can say is that it is possible.
It's worth doing; it's a life-changing experience, at least it was for me. It's incredibly hard for some of us to actually build that kind of routine and stick to healthy habits.
But at U.P., you can honestly do it. If I can, then everyone can. 

 
We show you the best, we don't show you the worst.
We show you people who follow the plans, not those who are all talk.
We show you those who inspire even us with their commitment to their results.
You cannot get results exactly like these. You are unique and that means you can only get your own best possible results.
Your results are a function of time spent following the plan; your genetic response to the right exercise and diet program; how hard you train; how consistently you come to the gym; how disciplined you are with your diet; & your starting point.
Oftentimes the lower your starting point (poor fitness, terrible body composition) the better your results.
We cannot do the work for you and the results you see here are a testament to the work ethic of our clients.
Our reputation is that we are the best trainers in the world for helping you to unlock your potential, & we can lead you to the door, give you the key, even turn the handle and push the door open, but we cannot walk through it for you.
In the end the result is down to you.
Like these results? Send us your details in the form below to receive information about our programs