Mark was 20kg overweight when he first came to Ultimate Performance Hong Kong.
The 50-year-old project manager wanted to invest in himself, lose weight and get back the fitness he had lost by living the Hong Kong lifestyle.
He had done boxing training in his younger days but the thought of joining a 'testosterone-filled' gym felt intimidating.
But Ultimate Performance is the complete opposite of this – professional, supportive and results-driven, to help clients achieve fitness goals they never thought possible.
Mark thrived in this positive and motivating environment, and his results are testament to this.
"I have lost 22kg, gained muscle and lost significant body fat. I've dropped 3-4 trouser sizes and needed a new wardrobe!
"I'm a lot leaner, I'm a lot fitter, I'm a lot slimmer and I feel better.
"People look at me and say I look 10 years younger."
Getting back into fitness can feel daunting – it certainly felt that way for Mark.
He had been struggling to shift the excess weight on his own and with other personal trainers.
It had been years since Mark had been near the weights room, and he sought out the professional services of UP to get him back on track.
"I wanted to lose weight. I'd been trying for some time.
"I'd been working on diet and decided I wanted to get back into exercising.
"I've always been more focussed on cardio and had done a lot of boxing in the early days when I was younger, but hadn't really been hitting weights for a long, long time."
Mark initially felt apprehensive about joining UP, fearing it was another one of those gyms with preening personal trainers and an ultra-masculine, judgemental environment.
But what he quickly found when starting his transformation was that UP was a million miles away from the typical commercial gym.
"I remember thinking on the day that I walked in 'most of the guys and clients here were actually pretty fit and in good shape', and there I was 20kg overweight or whatever and clearly not in a good condition.
"I was quite intimidated.
"But what struck me when I first came here, as opposed to a lot of other gyms, was you don't have that testosterone feel. You don't have that machismo.
"You don't have people telling you 'I'm better than you are. I'm a trainer, I'm so cool.'
"Everyone was very supportive and very receptive; a great atmosphere and very friendly."
Mark quickly felt at home and began making progress with his diet and training program alongside his trainer, Lucky.
ARRANGE YOUR UP CONSULT AND START YOUR TRANSFORMATION TODAY 
"I thought after the first few sessions I'd be struggling to get out of bed the next day.
"But no, it was actually very well put together, very constructive and positive.
"You never felt pushed beyond what you could do, but always felt you were being pushed."
As a project manager, one of the things Mark found most beneficial was the rigorous tracking of everything from diet and training, to sleep and steps, that meant he could see the progress he was making week to week in black and white.
"The tracking was awesome. You can see your progress.
"You get weighed every time you come in and the measurements are taken weekly.
"That, I think, is ideal, and it's really quite special.
"I've had personal training in the past. That was good, but it never had that sense of management.
"I run projects and 'constant management' sounds like a bad word.
"But that generally makes your life a whole lot easier. If you're tracking what's going on, you can see when there's a problem coming and how to resolve it, so it's not a problem. I was really impressed."
Diet had been one thing that Mark struggled with.
But what he found at UP was that managing his diet was actually very simple.
"I think getting into a routine is key.
"Really control what you're doing, and when you do that, everything else falls into place.
"The diet becomes a whole lot easier. I didn't find the diet hard at all, surprisingly."
Mark now has the tools and the knowledge to manage his own diet and keep the weight off for good.
"It's just back to tracking what you're eating.
"I think, 'okay, if I eat something, track what I'm eating.' I put it in MyFitnessPal, so I know.
"You see the results. I weigh myself every morning when I get up.
"It's all about routine. It's all about making life easy for yourself.
NOT NEAR A UP GYM? START YOUR ONLINE BODY TRANSFORMATION TODAY!
"You're not going out of your way to get fit, you're just making some small changes, adjusting your daily routine, and before you know it, it's not a chore at all."
Mark achieved results he never thought possible by the end of his 20-week programme.
His physical changes have been impressive, but it's the difference he has noticed in other areas of his life which have been most striking.
Mark says he feels fitter and more confident. But he also noted it has helped him in his work life.
"In a work environment, rightly or wrongly, people come up to you and say 'you look so much better.
"A lot of people are about image and how you look – especially if you hit a certain age, it's key.
"So that has been a very tangible benefit. People come up to you and talk about job opportunities, so it's made a significant difference.
"People do perceive you very differently because you're physically different. I found that quite surprising."
Mark says that the one thing holding him back from originally starting his transformation at UP Hong Kong Central was the cost.
But he says it has been a worthwhile investment in himself.
READ MORE INSPIRING REAL RESULTS STORIES HERE
"It's not a trivial amount of money, but that conversely makes you focussed.
"I've got a friend who works out at a gym down the road who has a personal trainer twice a week. He has been doing this for 20 months and he baulked and said 'you're paying how much?'
"I said 'Dude, I've been doing this for three months – you've been paying that for 20 months. Work it out.
"I know roughly how much you've spent and frankly you're not getting the results I expect I'm going to get.
"So that is something to consider for other people. It is an investment in yourself."
Mark says that the real value that sets UP apart from every other personal training company he had worked for was the round-the-clock support outside of the gym to make his result possible.
"It's not two or three hours a week.
"UP offers a full 'transformation service' and provided you buy into it, it really works.
"My trainer, Lucky, was basically on call 24/7. If I needed any advice or just motivation, then he was available.
"The gym is very professional and geared towards getting results for the clients."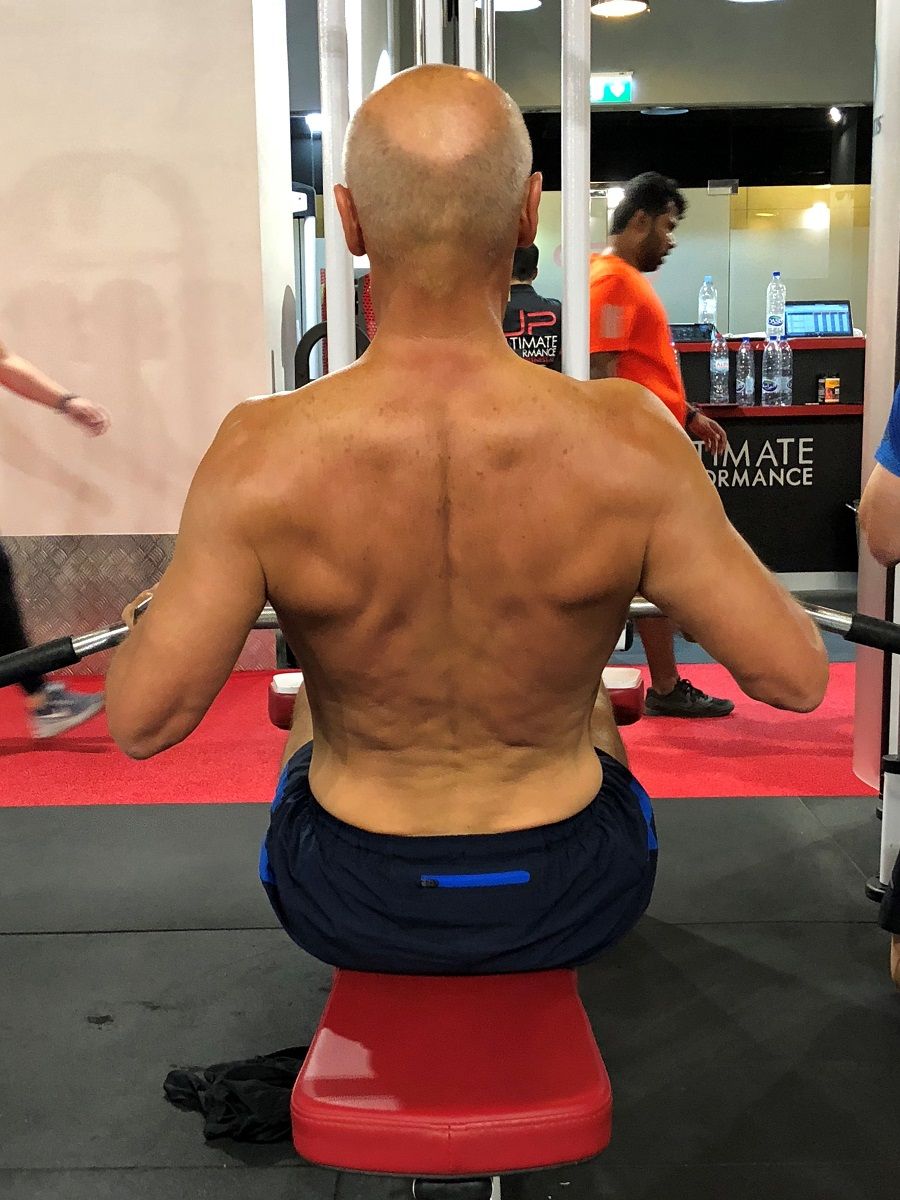 FEELING INSPIRED? ARRANGE YOUR UP CONSULT AND START YOUR TRANSFORMATION TODAY
We show you the best, we don't show you the worst.
We show you people who follow the plans, not those who are all talk.
We show you those who inspire even us with their commitment to their results.
You cannot get results exactly like these. You are unique and that means you can only get your own best possible results.
Your results are a function of time spent following the plan; your genetic response to the right exercise and diet program; how hard you train; how consistently you come to the gym; how disciplined you are with your diet; & your starting point.
Oftentimes the lower your starting point (poor fitness, terrible body composition) the better your results.
We cannot do the work for you and the results you see here are a testament to the work ethic of our clients.
Our reputation is that we are the best trainers in the world for helping you to unlock your potential, & we can lead you to the door, give you the key, even turn the handle and push the door open, but we cannot walk through it for you.
In the end the result is down to you.
Like these results? Send us your details in the form below to receive information about our programs