Gruelling work hours and high-stress levels were the norm for 39-year-old Ali.
As an investment manager, it came with the territory – but it was beginning to have a negative effect on his health.
His diet was out of control, stress was rampant, and he was piling on pounds.
Ali didn't like the way things were heading and 12 months ago he decided enough was enough – he needed to focus on his mental and physical wellbeing.
Ultimate Performance Dubai proved to be exactly what he needed, and even with the challenge of lockdown he achieved exceptional results.
His transformation journey not only helped him master his diet and lose 14kg (31lbs), but his newfound health and fitness has given him a zen-like state of mind at work.
"Working out, following a healthy diet and lifestyle has been phenomenal for me.
"Professionally, I manage investments for a living, but this is single-handedly the best investment I've ever made in my life.
"I've now become a health preacher at my workplace."
Ali has come a long way in a few short months. Just thinking back to before he started his transformation, and he was in a bad place.
"My life was very different…in a negative way. My condition was atrocious, attributing to 10 years' worth of poor diet choices and long working hours at a desk job that wasn't ideal for my physical or mental well-being.
"So one day, I just sat down and researched online, and that's when I came across U.P.'s website. The profile, client reviews, and my first visit to the gym were enough to convince me that this was exactly what I needed."
Working in the finance industry, Ali could have easily camouflaged his worrying and health-harming levels of body fat underneath nicely-tailored suits and loose lined shirts.
But instead he decided to confront the reality he faced every day head-on.
As a result, he started his fitness journey with U.P. in February 2020 – just as the world was hit by the coronavirus pandemic.
But not even lockdown and gym restrictions could stop him from achieving the impressive results that he has today.
"The first two weeks of my fitness plan were demanding, both in terms of the diet I took and the physical workout plan. I could have easily excused myself in the lockdown but Scott, my trainer, ensured that I didn't.
"It was great how a proper structure was put into place immediately with my at-home workout routine.
"Thankfully, I didn't gain any weight during the three-month lockdown period, and in fact, I lost a couple more pounds. I was glad to notice that I was the only person in my office who actually lost weight during that whole period."
While many people struggled through lockdown with no exercise and poor diet habits, Ali found that with the support of his trainer, he went the other way.
So when he came out of lockdown, he was stronger, fitter and leaner than ever.
It has had a transformative effect on his life.
"In October 2020, as cliché, as it may sound, I felt like I was a new man, a different person.
"I had lost about 30 lbs, and I felt a lot better when it came to waking up in the morning, feeling refreshed.
"Furthermore, now I feel mentally stronger in terms of my ability to manage work-life stress.
"If I look back and imagine myself in the current scenario, then I would have probably been flustered or stressed out, but gladly, on the contrary, I feel very calm and zen-like now."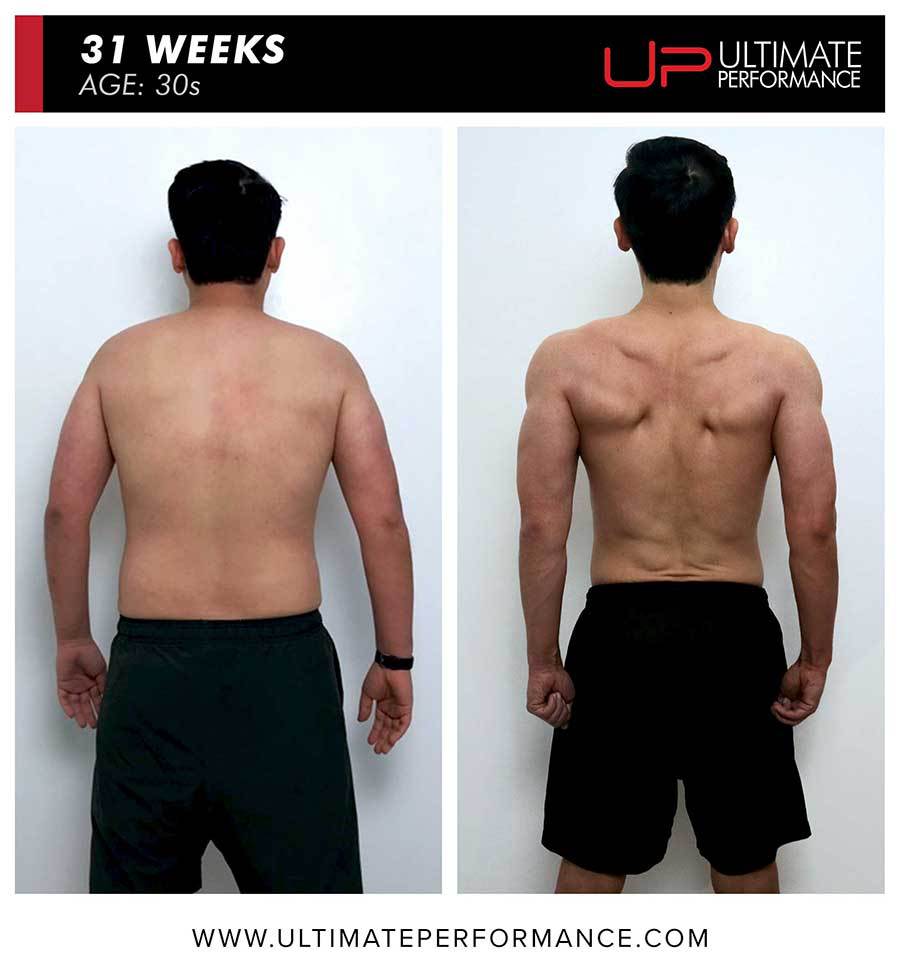 Ali is just glad he took that first step to sign up and took the plunge.
Any doubts or fears when he first began were quickly assuaged by the professionalism of his trainer and the whole team at U.P. Dubai.
"At U.P., it was the least intimidating gym environment that I had ever stepped into. My trainer was my best friend.
"The workout regime is going to be tough, but the moment the gains or benefits start showing up, one just sort of gets addicted to the programme, and that's exactly what I experienced.
"I believe that the money you spend today on your transformation is worth more than gold, and in the future, you will very likely save a lot on all the health bills if you follow a fitness-driven lifestyle like this."
Ali has some words of advice for anyone thinking about starting a transformation programme at U.P. – commit to the process for 12 weeks and you will see the results you want.
He believes the lessons you will learn will last a lifetime.
"From what I have gained, I definitely plan to inculcate these lessons that I have learnt in the last few months in my lifestyle and follow them for the rest of my life.
"If I knew what I know now, I would have started this fitness journey 10 years ago. However, I still do not regret starting it late because I strongly believe that it's never too late. So, just go for it!"
OVERCOME STRESS AND POOR DIET IN A SUSTAINABLE WAY WITH A PERSONAL TRAINING PROGRAMME TO SUPPORT LIFELONG HEALTH. SIMPLY ENQUIRE BELOW…
We show you the best, we don't show you the worst.
We show you people who follow the plans, not those who are all talk.
We show you those who inspire even us with their commitment to their results.
You cannot get results exactly like these. You are unique and that means you can only get your own best possible results.
Your results are a function of time spent following the plan; your genetic response to the right exercise and diet program; how hard you train; how consistently you come to the gym; how disciplined you are with your diet; & your starting point.
Oftentimes the lower your starting point (poor fitness, terrible body composition) the better your results.
We cannot do the work for you and the results you see here are a testament to the work ethic of our clients.
Our reputation is that we are the best trainers in the world for helping you to unlock your potential, & we can lead you to the door, give you the key, even turn the handle and push the door open, but we cannot walk through it for you.
In the end the result is down to you.
Like these results? Send us your details in the form below to receive information about our programs