With the best body of her life, Wendy is now looking forward to turning 60 feeling young and alive once again.
57-year-old grandmother Wendy wanted to make a splash at her daughter's wedding.
With only three months left until the big day, she signed up for an 11-week transformation at Ultimate Performance Sydney out of sheer desperation.
She had tried everything else and had gotten no results – U.P. was her last-ditch effort.
Worried about looking too frail and skinny, Wendy got her dream body by losing just 5kg from her petite frame.
She didn't need to shed a huge amount of kilos, her body fat certainly dropped dramatically – she lost 16% body fat during her three-month transformation at U.P.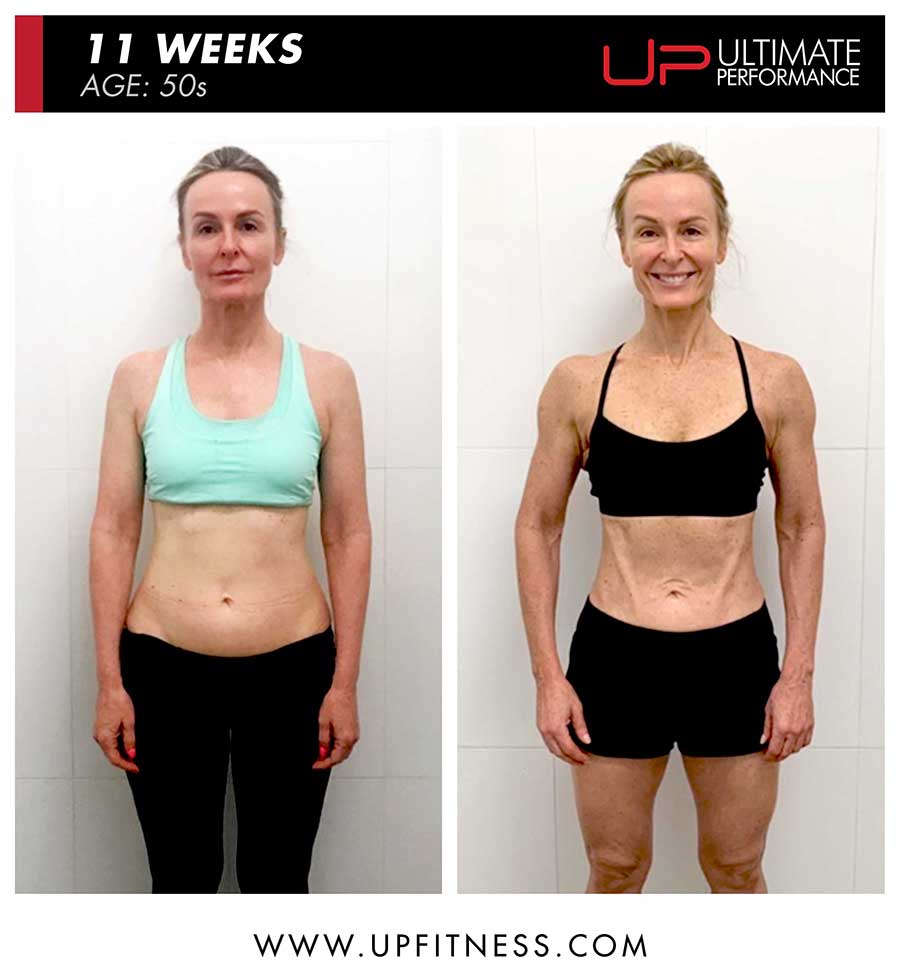 ---
---
"I love that I now have muscle definition. I hated to look in the mirror before, but now I am happy to strike a pose!
"No more tuck-shop arms or wobbly thighs. I have biceps, triceps, glutes, and quads. My abs are just starting to show. It feels fabulous to be fit and strong."
"I'm happier and I feel alive. It's opened up a feeling of youth and vitality that I thought was gone.

"I feel like I want to embrace life again rather than just sit on the couch and let it pass me by."
Wendy came to U.P. after wasting close to 12 months at another gym; the lack of results there made her immensely wary of the training process.
In the beginning, she wasn't very hopeful of achieving the goals she and her trainer had discussed.
"When I first saw the results wall, I thought 'wow it's great, but they are all in their 20s or 30s', and I thought in my 50s it's not going to happen for me."
But Wendy was wrong. Her bespoke personal training programme and diet worked perfectly to sculpt the toned body she wanted for the wedding.
"My diet before I started U.P. was pretty good. It was pretty much a plant-based diet. But looking back it was very carb-heavy – a lot of pasta and rice.
"My lifestyle was busy but not really focused on exercise; I was doing gym work but nothing like U.P."
Wendy thought she was leading a healthy lifestyle, but the fact was that her exercise and diet regime was not helping her.
Menopause had turned her into a worrywart and caused uncontrollable anxiety.
All this exacerbated her already poor sleeping patterns, and her trainer at U.P. offered holistic support – including meditation – to help her find a sense of balance.
She came in simply wanting to look better but left looking AND feeling like a million bucks.
---
We helped Wendy get her body and her mind ready for her special day, and we can help you too! Get in touch today.
---
"I noticed results within two weeks. Even my husband noticed results in two weeks. That made me feel really good because previously I had got no results, and that really motivated me.
"The first two weeks are the most challenging – when you change your diet, and you are committed to three workouts a week. But I was amazed at how it changed my mental thinking immediately."
The results she has achieved are way beyond her wildest dreams and have smashed all her expectations.
Now in her late 50s, she has never felt better and is back getting the most out of life.
"My entire body has been transformed in 11 weeks. Physically I am so much stronger. I feel really happy to look in the mirror – to see the change, to feel strong, and to feel good about myself."
"The mental achievement, which I didn't even expect, has been even better than the physical one.
"My memory has improved significantly. I used to have arthritic pain in my hands and feet, which was crippling but has now completely gone.
Wendy's husband has been doing weight training for years and always tried to get her into a gym, but she shied away from becoming a gym junkie.
Now she agrees that weight training is the only thing that made a difference to her body shape.
"I am living proof that this is the only thing that has worked!

"Yes, it's the hardest thing I have ever done, but it is also the best thing I have ever done.
"The changes happen within the first couple of weeks, and from there on, it just gets better and better and better.
"Eleven weeks into the training, I am transformed!
"The gym is fantastic; the atmosphere is electric. Everyone knows you by name and encourages you and accepts you at whatever stage you are at.
"My husband has now joined as he can't believe the amazing results he has seen. The wedding is this weekend, and I can't wait!"
---
We show you the best, we don't show you the worst.
We show you people who follow the plans, not those who are all talk.
We show you those who inspire even us with their commitment to their results.
You cannot get results exactly like these. You are unique and that means you can only get your own best possible results.
Your results are a function of time spent following the plan; your genetic response to the right exercise and diet program; how hard you train; how consistently you come to the gym; how disciplined you are with your diet; & your starting point.
Oftentimes the lower your starting point (poor fitness, terrible body composition) the better your results.
We cannot do the work for you and the results you see here are a testament to the work ethic of our clients.
Our reputation is that we are the best trainers in the world for helping you to unlock your potential, & we can lead you to the door, give you the key, even turn the handle and push the door open, but we cannot walk through it for you.
In the end the result is down to you.
Like these results? Send us your details in the form below to receive information about our programs