Andrew had always been in good shape – but he wanted a more muscular physique and six-pack abs to go with it.  
Even with a degree in sports science behind him, 46-year-old Andrew found his own training had stagnated, and he wasn't getting the results his efforts deserved.  
His first foray into the world of U.P. saw him follow one of CEO Nick Mitchell's training books – he liked the results, and he wanted more.  
The budget-friendly LiveUP plan caught his eye – progressive monthly training programs, meal plans and weekly check-ins for accountability. Everything he knew he needed to progress and build the body he wanted.  
With a more measured approach, he has been able to halve the amount of gym training he does and get twice the results – maintaining his progress over two years with LiveUP.  
"With U.P., the results really are guaranteed as long as you are prepared to follow the plan and put the effort in.  
"I have single-digit body fat, clear and defined abdominal muscles, and muscle growth, particularly in my legs and previously hard to grow body parts.  
"I have a lifelong understanding of how to have a healthy balance between training and nutrition, general health, supplementation for performance and health and the importance of consistency in our actions."
Before starting his transformation, Andrew was struggling to manage his own diet and training. He was stressing over the calories and macros in his diet and going hard in the gym up to six times every week.
The whole process was time-consuming, and it wasn't giving him the results he wanted.
"Prior to LiveUP, I was maintaining a healthy lifestyle, training regularly and embraced 'clean eating'. However, this resulted in micro-managing my caloric intake and stressing over macronutrient splits. I found this to be a stressful experience, taking up far too much energy and time.   
"I was also training 5-6 days a week in the gym weight lifting, which I now appreciate is completely counterproductive to both a fat loss and muscle building phase. LiveUP has delivered results way past my expectations and predominantly based around a three or four-day training split, supported by periods of rest and HIIT-style interval sprints."  
He had been plodding on like this for a while. But the turning point came when friends pointedly highlighted his lack of progress.
It clearly lit a fire in him, which motivated him to change.
"It was a combination of people's comments from within my immediate inner circle, frustration at my lack of progress and self-realisation that despite my knowledge on training and nutrition (I have a Sports Science Degree), it was obvious I needed to invest in a coach and a proven program.   
"People's comments would range from 'you're just not built to get a six pack' to 'your body never seems to change'.   
"I now look upon those comments as a positive experience as it provided me with the necessary drive to prove people wrong and to push to get the results I wanted." 
Business development manager Andrew was motivated to see how far he could push himself with a world-class online program.
He had gone so far on his own; now, he wanted to level up as he hit his mid-forties.
"My primary motivation for starting the LiveUP program was due to the sub-standard results I was achieving in the gym in relation to the effort I was applying towards both training and nutrition.   
"Whilst I've always maintained a lean physique, I was never satisfied with how I looked with respect to both fat loss and muscle gain.   
"Furthermore, I've also been a keen follower of Nick Mitchell over the past few years and having purchased his book, 'Your Ultimate Body Transformation Plan' – I was hooked on the detailed nutrition plans and the clear explanation about the execution of the plan and the nutritional changes with which to make and supplementation plan.   
"Having gained 'good' results but again, not satisfied with my progress, I saw the advert for LiveUP and decided that the additional layer of accountability and the opportunity to work directly with a world-class U.P. trainer was exactly what I needed."  
Want a budget-friendly way to work with the world-leading personal trainers from Ultimate Performance? LiveUP is your answer.
Andrew had always been sporty throughout his life – doing running, football and cardio-based endurance events.
But as he got older, he gradually shifted to more weight training-style workouts.
Now full signed up with LiveUP, he was intrigued to see what he could achieve with U.P.'s online program.
"My initial goal was a simple one; to get abs and to achieve a body fat of sub 10%. Although I've always been lean, I've never been sub 10% body fat and never had clear and defined abs to show for my endeavours.   
"My secondary goal was to build a lean and muscular physique, adding quality lean tissue but not at the expense of adding excess body fat."  
One of the first things to change on the program was his diet – Andrew learned some small but powerful tweaks to his nutrition.
From understanding portion sizes instead of weighing every gram of food to nutrient timing his carbohydrates, it has helped take his results up a level.
"The LiveUP program and in particular, the efforts of Elliott into educating all of us on the program to make the nutritional changes ourselves rather than just telling us what changes to make has been instrumental in my understanding of what foods to eat and when.  
"I now realise that my nutrient timings were completely incorrect in that most days would start with a heavy carbohydrate-based breakfast of either porridge oats or wholemeal toast, probably with a protein shake.   
"Whilst not unhealthy, I realise now this is suboptimal and that breakfast, unless training on a morning and/or are already extremely lean, should consist of protein and fats."
"Previous to LiveUP, the majority of my carbs would be eaten during the day with a lean protein such as chicken or fish, adhering to the outdated myth of 'no carbs after 6 pm'.  
"I now understand the role of high and low G.I. carbs and the importance of taking in carbohydrates prior to bedtime in order to bring the body to a state of rest resulting in a deep, restful sleep and the positive impact that has on recovery, fat loss and muscle growth."  
His two-year journey on LiveUP hasn't been without its obstacles, however. After joining in May 2019 and making quick progress in getting lean, he suffered an ankle injury in the middle of a weighted endurance race in the Brecon Beacons simulating the test conditions of SAS recruits.
It prevented him from fully committing to the training program for the rest of the year. However, following this, from October 2019 to January 2020, he lost 14lbs and cut his body fat down to 11%.
Not long after, the pandemic struck and disrupted his ability to train again – but he was able to maintain his results over the summer.
"The game-changer was the introduction of the three-times-weekly live at-home LiveUP workouts.   
"These workouts were like literally receiving a private PT session three times a week, and I quickly found that my accountability and consistently improved.   
"I have completed these home workouts from December 2020 through to March 2021 (based around the gym closures) and decided to coincide this with a further fat loss stage.   
"Aided by the gym's reopening in March 2021, I have subsequently lost around 10lbs in this period. However, I feel and look much more muscular than my first transformation phase and at almost identical body weights.   
"The live workouts were superb in explaining the required intensity and subsequent caloric expenditure required to achieve single-digit body fat, and I now sit at broadly 8% body fat."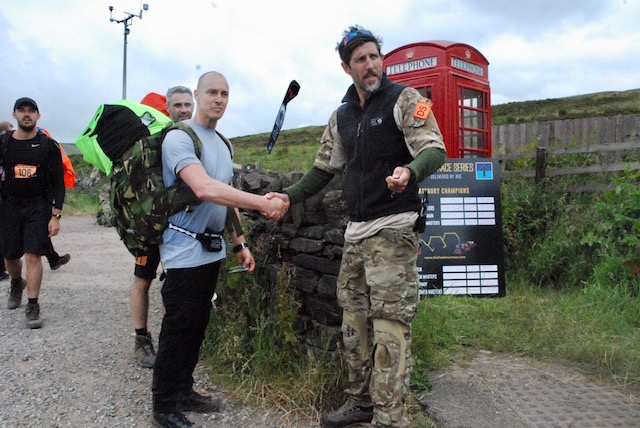 Andrew says the impact of his transformation on his health, fitness and performance has been incredible.
Whether in the gym or out running, he is faster, stronger and fitter than ever before.
"Since starting LiveUP, I've never had so much energy.   
"As a by-product of becoming leaner yet stronger, I have recently completed a sub-20-minute 5km run, despite not specifically training for endurance sports.   
"My performance levels in the gym have never been better, whereby I now have a deep understanding of time under tension, intensity, and the importance of strict form whilst performing each exercise and can now confidently deadlift in excess of 160kg for reps on an exercise that I have always struggled with previously." 
INVEST IN YOUR LIFELONG HEALTH AND FITNESS LIKE ANDREW WITH LIVEUP ONLINE COACHING. 
We show you the best, we don't show you the worst.
We show you people who follow the plans, not those who are all talk.
We show you those who inspire even us with their commitment to their results.
You cannot get results exactly like these. You are unique and that means you can only get your own best possible results.
Your results are a function of time spent following the plan; your genetic response to the right exercise and diet program; how hard you train; how consistently you come to the gym; how disciplined you are with your diet; & your starting point.
Oftentimes the lower your starting point (poor fitness, terrible body composition) the better your results.
We cannot do the work for you and the results you see here are a testament to the work ethic of our clients.
Our reputation is that we are the best trainers in the world for helping you to unlock your potential, & we can lead you to the door, give you the key, even turn the handle and push the door open, but we cannot walk through it for you.
In the end the result is down to you.
Like these results? Send us your details in the form below to receive information about our programs