After 12 weeks and a change of lifestyle.
Read in his own words how Mickael went from overweight and feeling unhealthy to lean and in-control of his life and body.
"Where to begin… I don't really know. From an early age, I've always been a big person. At age 14, I was 133 kg. Coming from Brittany, France, a large family, my mother was always making sure that I was well fed. My mother would not allow me to leave the table if I didn't finish my plate.
"I am a very gourmet person and that is the main reason that I chose to become a chef. But with this work rhythm, it is very difficult to find a balance between life and work. In this industry, we very often give everything to our work and I have neglected my health. I have tried several diet program such as Dr Ducan method but none of them was really working.
"When I started working at a five-star hotel, I decided to have a better work-life balance. My weight was 152kg and I was having some difficulties breathing during the night and heart pain during stressful moments at work. I decided to start exercising at the gym on a regular basis. I managed to burn off a few kilograms by doing mostly cardio exercise.
"However the skin, particularly on the belly, started to hang a bit. I was in need of a proper program to increase my muscular mass. I decided to take a private trainer. The first coach I found was a loss of time and it was very un-effective and the results were not here. At that point, I was very sceptical about getting another coach due to the previous experiences.
"I first noticed the Ultimate Performance program through an ad on Facebook. I decided to give myself a last chance to give it a try."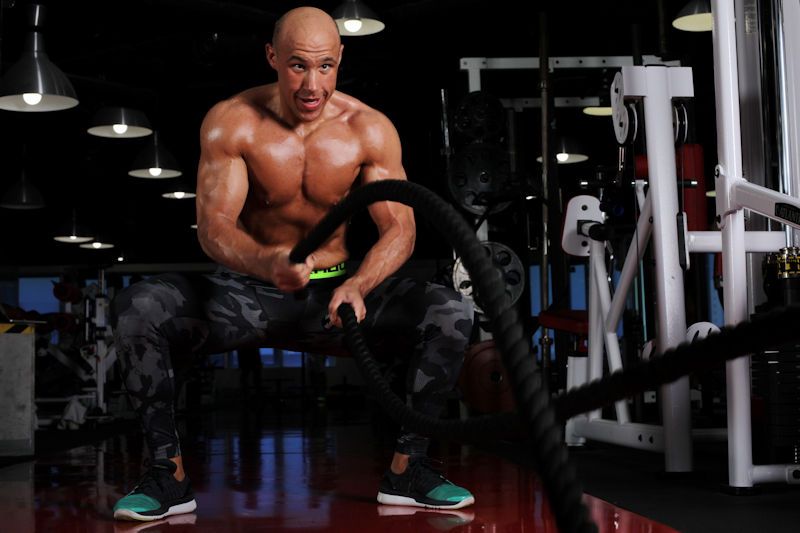 "My first impression of my Personal Trainer, Russell, was he was very fit and seemed more to know what they were doing. It was very professional and organised. He was always honest and realistic with what he could accomplish with me.
"He did not hard-sell and oversell the results as other coaches had done before. He said that he could help me reduce the body fat but he wasn't a magician. He said we will try our best to contain the skin hanging on the belly but he warned me that the skin will hang anyway.
He also explained the training was one thing but 85% of the program is the diet that he designed for me. It was the first time that a coach was that honest with me, while it wasn't maybe what I wanted to hear, at least he was honest with me and that was a perfect beginning to the program."
"My training program length was 12 weeks. When I began the training with Russell, my weight was 107kg and 21.8% body fat. Every day, he was carefully monitoring what I eat and how long I exercise my cardio.
"We also do a weekly body fat check and the waist size, every single week there was an improvement. He also provided me with very strong moral support during the program which was very needed some weeks into the program.
"I am now 88kg with a body fat percentage that is under 11%. I am very happy to have found Russell and I would highly recommend him and Ultimate Performance gym for anyone who is ready to change their lifestyle and get back into shape like me!"
We show you the best, we don't show you the worst.
We show you people who follow the plans, not those who are all talk.
We show you those who inspire even us with their commitment to their results.
You cannot get results exactly like these. You are unique and that means you can only get your own best possible results.
Your results are a function of time spent following the plan; your genetic response to the right exercise and diet program; how hard you train; how consistently you come to the gym; how disciplined you are with your diet; & your starting point.
Oftentimes the lower your starting point (poor fitness, terrible body composition) the better your results.
We cannot do the work for you and the results you see here are a testament to the work ethic of our clients.
Our reputation is that we are the best trainers in the world for helping you to unlock your potential, & we can lead you to the door, give you the key, even turn the handle and push the door open, but we cannot walk through it for you.
In the end the result is down to you.
Like these results? Send us your details in the form below to receive information about our programs