Sanjeev has gone from fat to fit at 50 in a matter of weeks.
Just 23 weeks ago, he was unhappy with his 'plum' body shape and wanted to change.
He lived off rich and calorie-laden Indian food and enjoyed a drink at night.
But his diet and sedentary lifestyle meant me piled on 10kg in an eight-month period.
But changing his diet and following a weight training programme has been life changing.
He has lost 17kg, shed an incredible two thirds of his body fat and trimmed 30cm off his waistline training at Ultimate Performance Singapore.
"What a change I have felt! I have more energy, I'm full of confidence and I'm more disciplined. I learned how to believe in myself."
---
Sanjeev's transformation shows what is possible at 50. Here he explains how he did it…
What were your motivations for starting your transformation?
---
Being middle aged, I wanted my body to be in better shape – it was like plum and I was full of fat everywhere.
I got motivated to start after reading the testimonials and after seeing the transformations of many other UP clients which showed that it would be possible for me to do it too.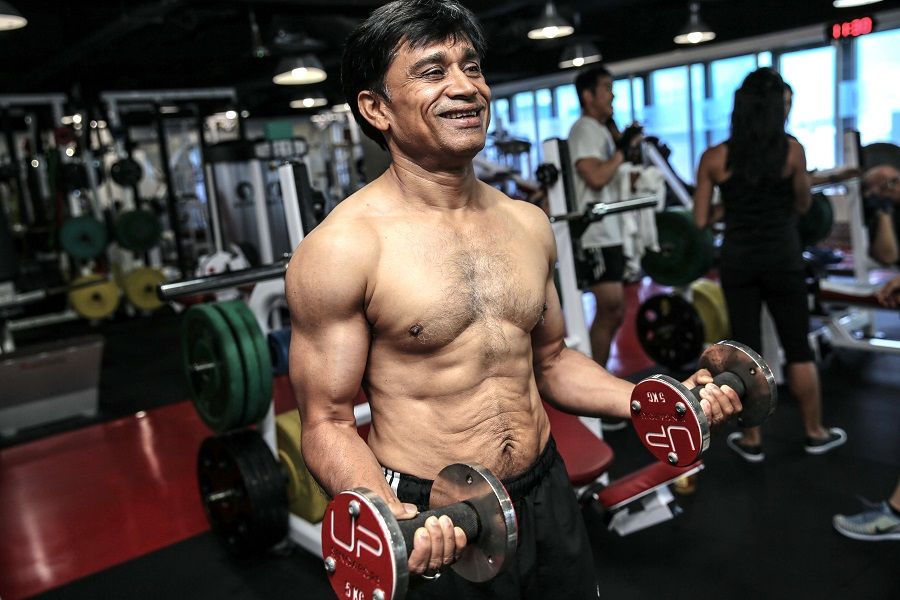 ---
How were you feeling both physically and mentally before starting with UP?
---
I was physically okay, but I was often feeling lazy, especially in the morning hours.
It was the same mentally too – I not feeling fresh; I was sleepy in the afternoon.
What was your health and lifestyle like before you started?
---
My health was not bad. I had no issues, but I was lazy and slow to react.
I had a habit of drinking every day after the work and also had no control or restriction on both food type and quantity.
What was your diet like before you started your transformation with UP?
---
I had no proper structured diet before I started my training with UP. I would just go with the flow. Whatever I liked to eat, I would just eat – and the worst part was alcohol at dinner on a regular basis.
What kinds of things were you eating every day and how did this affect you?
---
Being Indian, mostly it was full of curries and oily food on regular basis.
Lunch was always normal canteen food and alcohol regularly.
It affected me a lot in the wrong way. I gained weight – almost 10 kg in eight months.
How did your diet and lifestyle change when you started your transformation with UP?
---
What a change it was! It was tough initially because before I would just eat what I wanted. Then suddenly I was only able to eat diet food and cut out things like oil and rice.
The first few days was like a punishment. But my trainer explained everything to me thoroughly and I was prepared to keep following it.
It was full marks to me for managing to strictly follow the food plan which was designed for me, and thanks to UP and my PT for the constant positive feedback.
---
What results did you achieve following your transformation?
---
I am much lighter and I am full of energy and feeling fresh.
The most important thing is that when I started, I had a mindset that as my age was nearing 50, I should not push my body hard.
That's what I explained in my first meeting at UP – that I wanted to be in shape with just a normal body but with the reduction of my body fat.
But after I started, and the way my training progressed, my way of thinking started to change.
Pushing my body hard actually helped me gain confidence. Now what a transformation I have made! I've slimmed down, I no longer have a piggy face, and I'm fully disciplined.
What were the biggest benefits you experienced from doing this transformation?
---
The most difficult part before my transformation was getting up in the morning.
Now after the change I feel fresh, full of energy and no longer feel tired or lazy after I wake up.
I learned to believe in myself. I learned to make the right choices on my diet, choose the right type of food, and overcome the urge to drink alcohol. I have a much more disciplined lifestyle.
---
What were the most important things you learned during transformation?
---
It's all about mindset. The most important thing throughout my journey was discipline and believing in myself. I found that nothing is too hard and I really can do it.
How has doing this transformation changed you and do you think it will benefit you going forward?
---
Now I feel confident I am fully fit both physically and mentally. I am more confident and ready to take on any challenge to get ahead in my personal or professional life. I must thank to UP.
---
Would you recommend UP and why?
---
Yes! Of course.
It's a place where you can learn to disciplined and believe in yourself. It's the right place to gain confidence and get fit both physically and mentally.
We show you the best, we don't show you the worst.
We show you people who follow the plans, not those who are all talk.
We show you those who inspire even us with their commitment to their results.
You cannot get results exactly like these. You are unique and that means you can only get your own best possible results.
Your results are a function of time spent following the plan; your genetic response to the right exercise and diet program; how hard you train; how consistently you come to the gym; how disciplined you are with your diet; & your starting point.
Oftentimes the lower your starting point (poor fitness, terrible body composition) the better your results.
We cannot do the work for you and the results you see here are a testament to the work ethic of our clients.
Our reputation is that we are the best trainers in the world for helping you to unlock your potential, & we can lead you to the door, give you the key, even turn the handle and push the door open, but we cannot walk through it for you.
In the end the result is down to you.
Like these results? Send us your details in the form below to receive information about our programs